---
5 Ways Optimism And Positive Thinking Can Backfire On You
Posted: 13 Aug 2019 08:11 AM PDT
There are tons of literature out there advocating "positive thinking" as the key to happiness. While numerous research findings have brought to light the many benefits of maintaining an optimistic outlook in life, some of us prefer to keep a more realistic perspective and reject adopting a Pollyanna view of the world.
That said, many pop psychology books we see in bookstores today are actually pushing for the latter without adequately revealing the often hidden dangers of holding extreme, unrealistic optimism. Sure, positive thinking is an effective coping mechanism but, as with many things in life, balance is key.
Too much of a good thing is often bad, just as overdosing on water can cause hyponatremia (or water intoxication). We need to ask ourselves how far we can go about with rose-tinted glasses before it actually becomes detrimental to us.
To answer that question, let us observe at the following pitfalls of positive thinking and of holding an overly-optimistic outlook on life:
1. Disregarding Negative Emotions
Sadly, so much focus has been given to the power of positive thinking that we no longer appreciate the goodness of negative emotions. Contrary to what some self-help books may suggest, our psychological well-being doesn't simply improve when we attempt to will away all our sadness, anger, fear and other unpleasant feelings with positive thoughts.
Think about it. Without feeling the emotional pain that inevitably arises from various setbacks we encounter in our lives, we will never be driven to change things for the better for ourselves and for others. Allowing oneself to feel a wide range of both positive and negative emotions helps one find meaning in life and grow as a human being amid adversities — an essential recipe for cultivating psychological flexibility.
Read also: 8 Scientifically Proven Ways to Increase Your Happiness
At any rate, forcing negative (or any) thoughts out of our head is not only an attempt in futility; it can even backfire on us.
Lying To Ourselves
In the classic "white bear" experiment, participants were told to ring a bell whenever a white bear flashes in their mind. Suppressing thoughts appear to make things worse, as those who were specifically instructed not to think of a white bear actually rang more times than those who were told to think of one at the onset.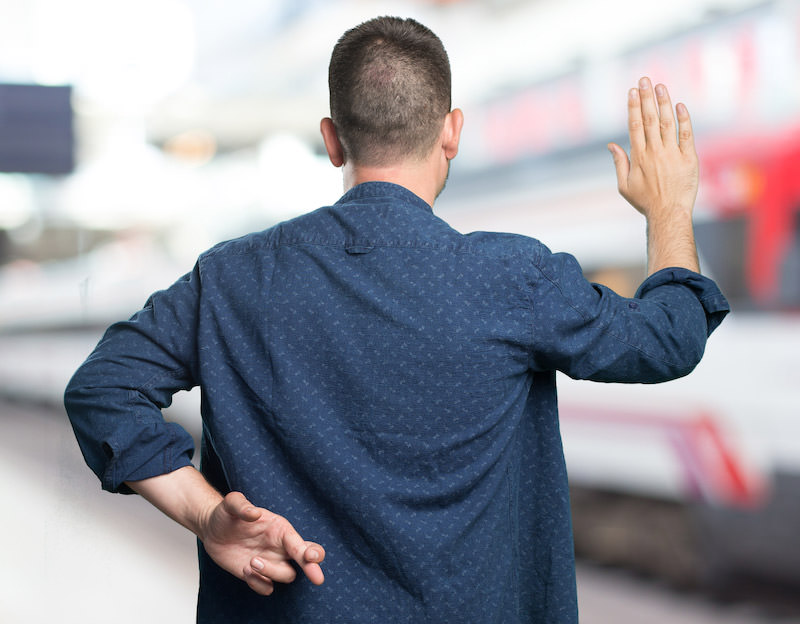 Using positive affirmations to counter negative self-talk may not also work for everyone, as uncovered by a study which found that students with low self-esteem actually felt worse after they were asked to repeat the positive statement "I'm a lovable person" every 15 seconds. Instead of having their mood lifted, the affirmations actually dampens it.
They could have perceive them to be too far-fetched from how they truly feel about themselves, and saying them aloud may have even brought to attention their insecurity.
2. Encouraging Magical Thinking
Over-optimism can cloud our minds and lead us to miscalculate risks and make unsound decisions. It cause us to falsely assume that positive things are more likely to happen to us than others, and that we are more invulnerable to negative events than the rest.
Such biasness, otherwise known as optimism bias, is evident in how parents typically believe that their children are more talented than others', how newlyweds perceive themselves as very unlikely to divorce despite the prevailing high rates, and how we routinely engage in unhealthy lifestyle such as smoking and drinking thinking that we are less likely to succumb to illnesses such as cancer and liver failure.
Do You Believe In Magic?
Optimistic bias may cause us to see things in a less objective manner, but that doesn't mean it's all bad. It can spur us into taking that leap of faith to change our situation for the better, when everything seems gloomy. The problem comes when we indulge in magical thinking, choosing to ignore the warning signs which our negative emotions are hinting to us and losing that grip on reality.
We see it in a persistent suitor who, despite presented with obvious clues that the lady of his dreams isn't the least bit interested in him, clings on to the hope that one day his efforts will pay off. Such a person tends to disregard counter-evidence in order to persevere on with his plans.
3. Creating The Illusion Of Control
A natural outcome of optimism bias is that we begin to think we have more control over the outcomes of events than there really is. Coined the "illusion of control", it is the reason why despite the fact that the winning numbers for a lottery are randomly selected, people are more confident of winning when they are given the liberty to pick the numbers.
As a matter of fact, pathological gamblers often fall prey to such illusion of control. They believe that by adhering to superstitions and engaging in good luck rituals, they can actually significantly improve their chances of winning big.
The bottom-line is that psyching ourselves with positive thinking can make us optimistic to the point that we overestimate our ability to determine outcomes. When life presents us with circumstances that are just out of our reach, seeking to gain real control of them is just wishful thinking on our part.
Many frustrations can be avoided when we don't allow ourselves to get carried away by our enthusiasm and unrealistic optimism. At times like this, positive thinking distracts us from looking at the situation holistically and realistically, preferring instead to paint for us a rosy picture that may not exist.
Read also: 7 Telltale Signs of Facebook Addiction
4. Fostering Complacency
Is it possible for us to imagine the best possible outcome of an upcoming event, tricking our minds into believing that we have already attained it? It appears to be so, at least according to a recent study.
When participants were told to visualize themselves accomplishing something in the best possible way (e.g. winning an essay contest and getting an A on a test), their energy level dropped, resulting in worse performance during the actual event as compared to those participants who were told to imagine more realistic and negative outcomes.
The researchers explained that fantasizing about the most ideal outcome could actually decrease one's motivation to pursue the goal, since the mind has already gone through the experience of achieving it.
In a similar vein, when researchers analysed financial and demographic information collected from U.S. families, they discovered a clear distinction between optimists (anyone who self-reported a longer life expectancy than what was expected of them based on their demographics) and extreme optimists (top 5% of the optimists) in the way they make financial decisions.
In particular, the extreme optimists were less likely to clear outstanding credit card balances, save less money and even work fewer hours than the other optimists.
Regardless of whether the optimism in these individuals was induced by positive thinking or that it was already in their blood, this study shows that too much of it can be bad for us. It is, after all, human nature to become complacent when we get too confident with ourselves.
5. Bearing Undue Responsibility For One's Thoughts
Too much has been said about how we're responsible for our thoughts, and how thoughts affect the way we feel and behave. As a result, there is now an unspoken pressure on all of us to replace the negative thoughts we have with positive ones. When we fail to do that, we were led to believe that we are the ones at fault for not trying hard enough to pull ourselves together and "think positively".
Now we have an additional emotion to deal with, on top of what was troubling us in the first place: the guilt for being unable to convince ourselves to be optimistic about our situation! Instead of accepting our fears, worries, anger, etc. at the first instance and deal with the problem head-on, we waste our time and energy by feeling upset with ourselves over perfectly normal emotions..
Read also: Freelancers: How to Deal with Insecurities
Such phenomenon has been well-pointed-out in the thought-provoking book, "Bright-Sided How Positive Thinking is Undermining America", where author Barbara Ehrenreich related her experience with the unhealthy American culture of positive thinking, when she was diagnosed with breast cancer.
As the pervasive assumption amongst the breast cancer community is that positivity allows one to conquer the illness, patients were pressurised to feel optimistic about their cancer (even to the extent of interpreting it as a gift) despite actually feeling depressed and distressed over it.
For this reason, guilt sets in for those who were unable to stay hopeful, mainly because they saw themselves as liable for having negative thoughts which supposedly contributed to the illness. They even have to keep the negativity to themselves for fear of dragging down the mood of the other seemingly more positive patients.
The post 5 Ways Optimism And Positive Thinking Can Backfire On You appeared first on Hongkiat.
Visit Spain (Espana) Through Stunning Photographs
Posted: 13 Aug 2019 06:19 AM PDT
Spain – or officially, The Kingdom of Spain – is a beautiful mountainous European country with a diverse climate. The country has a variety of architectural styles and landscapes with a lovely weather all through the year. An all of this makes Spain one of the most sought-after tourist destination in the world.
So though this post, we take you along a trip down to Spain in some stunning photographs. Be warned, this is long list and for those with slow internet connection, it might take a while to load. Let's jump right in.
Madrid
Madrid is the capital and largest city in Spain, although probably one of the smallest autonomous regions.
Madrid, Spain @isayx3
Parque Natural de Penalara, Madrid @Luis_Carrasco
Las Rozas Bridge, Madrid @4ullas
Madrid Metropolis @yoquini
El Escorial, Madrid @feniche
Real Madrid CF Stadium HDR @marcp_dmoz
La Cava de San Miguel (HDR) @R. Duran
Madrid, city hall – HDR @R. Duran
Carrion Building, Madrid @el silencio
Madrid – Parque Juan Carlos I. @Jose Mazcona
Puerta de Europa @R. Duran
Cuatro Torres Business Area, Madrid @Roberto Ruiz
Madrid Wishes you a Merry Christmas @Jose Maria Cuellar
Kaleidoscope of spring, Madrid @R. Duran
Barcelona
Barcelona is the second largest city, and capital of the Catalonia region. It is Spain's main tourist destination, and probably the most photogenic region. Here stands a glorious monument to Christopher Columbus, the largest football stadium in Europe, Camp Nou, which has a seating capacity of 100,000, and many other architectural delights awaiting photographers.
Monumento a Colon, Barcelona @marcp_dmoz
Torre Agbar, Barcelona @triagon
La Pedrera, Barcelona @mdominy
Camp Nou, Barcelona @erenabice
La Pedrera – Casa Mila @Paco CT)
Mirror/Espejo, Barcelona @J. Salmoral
Rays From Heaven, Port Vella, Barcelona @Paco CT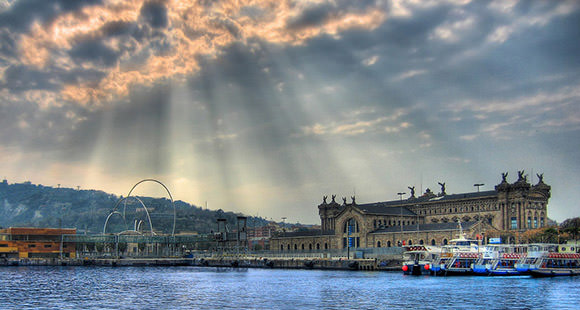 Ojo de Pez – Fish Eye @maytevidri
Valencia
Valencia, Spain's third largest city is the capital of the Valencian Community. The City of Arts and Sciences is a wonderful example of modern architecture and a photographer's dream.
City of Arts and Sciences, Valencia @barrabash
City of Valencia @iloan
Port authority, Valencia @Kamuro
Bilbao
Bilbao is the largest city in the Basque area of Spain, and capital of the Viscaya region. There are many examples of modern architecture in this city, along with more traditional styles.
Guggenheim Museum, Bilbao @basajauntxo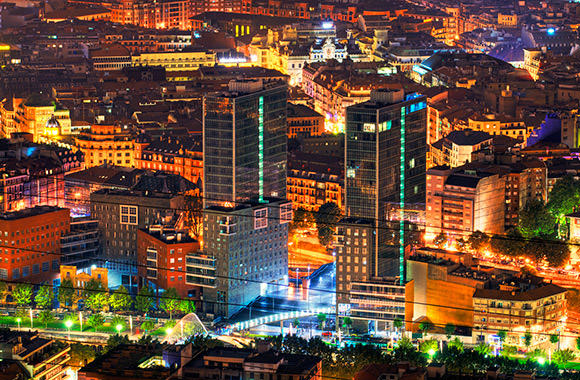 Elsewhere in Spain
Lizara, Aragon @EddyB
Valle del Pisuena, Cantabria @lapidim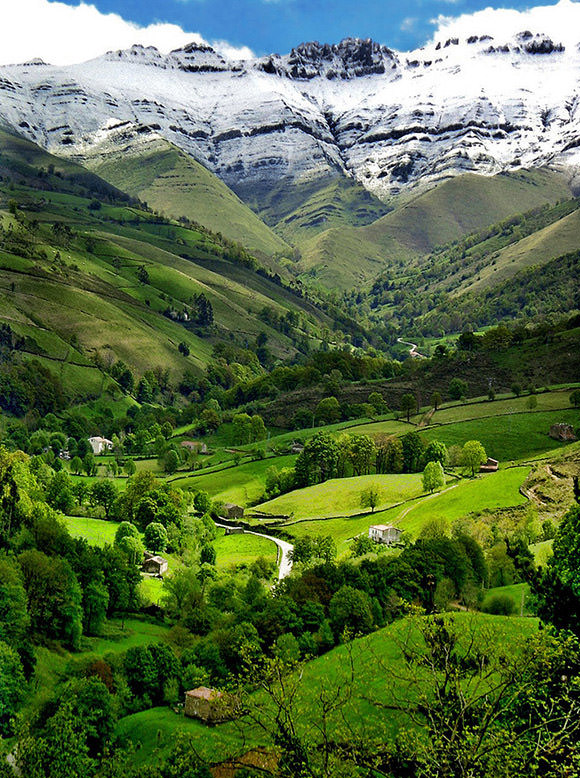 Playa de la Arnia, Cantabria @JoseLMC
Puente Vidosa, Aguasaliu @jtsoft
Mazonovo Taramundi, Asturias @dnieper
Torrecerredo, Asturias @jtsoft
A Coruna, Galicia @Henry J.
Teatro Guimera, Tenerife @papalars
Plaza de Anaya, Salamanca @marcp_dmoz
Pantano del Porma, Leon @dnieper
Catedral Salamanca, Castilla Leon @wikipedia
Paisaje de la Grajera, La Rioja @Arbego
Marques de Riscal Hotel Winery, La Rioja @jmoranmoya
Palicios de Caceres @Sylole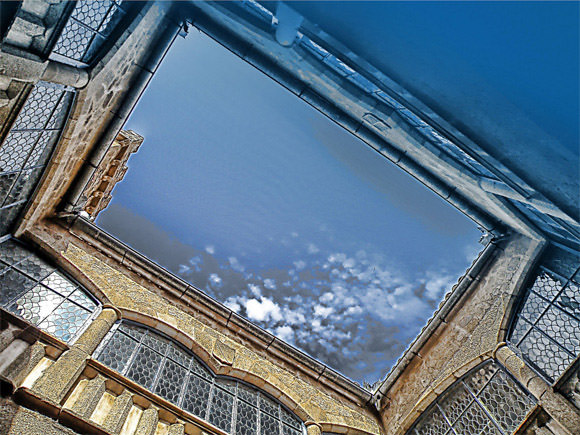 Caceres, Extremadura @UVEpothographer
La Mancha @via Wallpaperme
Amanecer, Almeria @dleiva
Asturias, arcoiris @R. Duran
Onyar River Reflections, Girona @NatashaP
Cadaqués @MorBCN
Paradise 6pm, Santoa @Zyber
Pont Vell de Besalú @Santi RF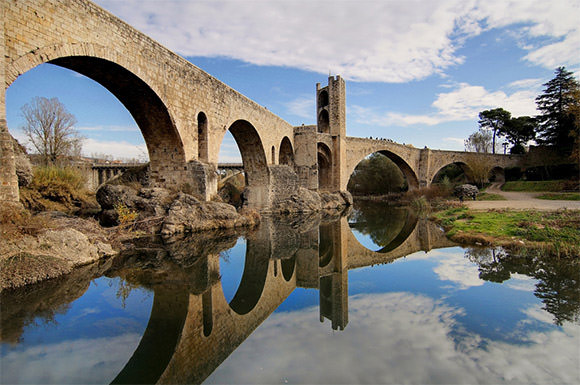 Zaragoza, Basílica del Pilar @Sigurd66
Rio Manzanares, atardeciendo, Arguelles @R. Duran
Tormes river @ Salamanca @Paco CT
Castillo y Niebla, Iruela @Paco Gamez
Follow the yellow brickstairs, Santiago de Compostela @dogonnit
Claustro Santo Domingo, Castille and Leon de Silos @labcstm
Pico Ropé, Chera @Toni Duarte
Mediterranean Architecture, Castellon @QuimG
Desert's End, Gran Canaria, Canary Islands @McDave Hamburg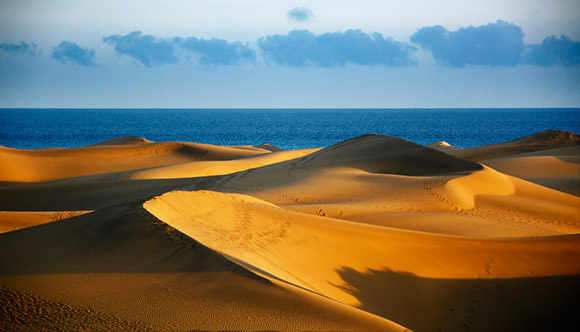 Atardecer en La Pared, Canary Islands @Quique Bloody
Formes i Funcions, Palma, Mallorca @SBA73
La Seu, Mallorca, Balearic Islands @Philipp Klinger
Yacht Shopping, Palma, Mallorca @Philipp Klinger
Ibiza, Balearic Islands @Dregster
San Fermin Bull Run, Pamplona 2010 @Getty Images
Loja, Granada @Usayd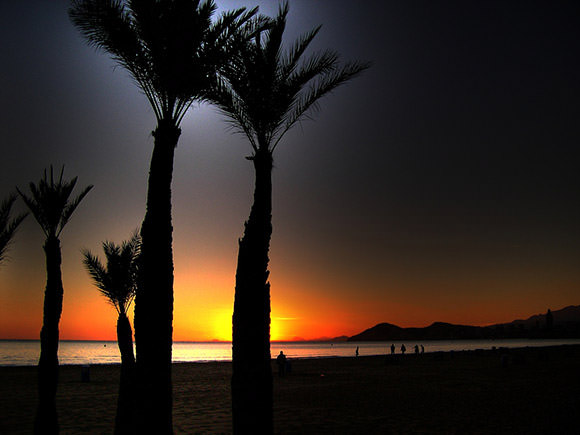 Tram Station, Alicante @Creado.es
Bahia de Calpe, Alicante @Javisaye
Campoamor, Alicante @alba-7
Castalla Castle, Alicante @Fenwalker
Fiestas in Spain
There are many fiestas in Spain all year round in every town. I round this collection off with a couple of examples of '
Espana en Fiestas.
Running of the Bulls, San Fermin, Pamplona @National Geographic
Moros y Cristianos, Alcoy @Patrick Mira
The post Visit Spain (Espana) Through Stunning Photographs appeared first on Hongkiat.
You are subscribed to email updates from Hongkiat.
To stop receiving these emails, you may unsubscribe now.
Email delivery powered by Google
Google, 1600 Amphitheatre Parkway, Mountain View, CA 94043, United States