---
50 Absolutely Stunning 3D Street Art / Paintings, Vol. 3
Posted: 24 Mar 2020 08:54 AM PDT
Have you ever came across a drawing or chalking on a street or pavement that seems strangely odd at first, but when you look at it from a certain viewing point or angle, it looks like a real-life object or structure. Well, that is the magic of 3D street art, one of the most famous public art forms.
Though 3D art has been around from quite a while but with the advent of the internet, it's popularity has catapulted. Notable brands are already taking advantage of the public's curiosity on 3D street paintings to create awareness for their products.
So, today's post is a sequel to a series of stunning 3D street art paintings and features some of the best and even award-winning examples of this wonderful art form. Go ahead, feast your eyes!
Hot river
Nearly the whole street were taken to create this earth cracking effect. Brilliant piece of art!
Ice abyss
Watch out to not fall in this huge ice abyss!
Raft
Now that the street is flooded, raft is your only resort to get to the other side.
Johnnie Walker in Taipei
Underworld of Johnnie Walker.
Mysterious cave
You don't have to travel around around the world exploring mysterious caves – somtimes they are just under you.
Reflection
People on the upper part of the image is real but their reflection on the bottom part of the image is drawn.
Melstorm
And here comes the vortex!
Muses
This drawing looks like an old, classic painting, similar to paintings in medieval castles.
Hole
Another drawing which shows what happens under the street.
Relaxing giant
A huge giant relaxing on the street.
Horses
It's a cowboy show, yee-haw!
Office stress
This drawing represents daily life of a typical office, maybe?
Just hold on and here we go… Oh snap, I didn't see that crock down the river!
Escalator from the underground. This looks very realistic!
Ice cold 3D chalk drawing for Grant's.
This is very big, shiny drawing which is made for "Smart".
Nails
Ouch, this hurts!
What's this? It's a colour waterfall!
So it's possible to kick back at a beach, in the middle of a city.
And here we have a hot bath which is open for everyone!
A really realistic cup of cappuccino.
Beautiful underworld by Orange.
Be careful where you park your car.
3D chalk drawing can also be on the wall.
Where fantasy meets reality.
Watch out for the crashing in car, or should it be crashing
up
World's biggest fly meets world smallest fly-spray.
Artificial Eiffel Tower built using sand.
He has drawn himself!
Found a treasure in the center of the city!
That's right, the help is on its way.
Ready, get set, jump!
Heaven
It seems like we have a heaven beneath us too.
Train
Here comes the underground train!
Water In The Way
How should I cross this? Tough question.
Escape of the mummy
Mummy is climbing out of underground!
Temple of the jaguar
The Medici Garden
Drawn Basketball Optical Illusion
Someone should take that ball of the street, or maybe not.
Lizards
Animals from the underground
Jack Daniels
The post 50 Absolutely Stunning 3D Street Art / Paintings, Vol. 3 appeared first on Hongkiat.
How to Add Custom Ringtones and Text Tones for iPhone
Posted: 24 Mar 2020 07:14 AM PDT
Your iPhone may have an array of chimes and ripple tones, but one gets rather bored from these. To counter that, you can create customized ringtones from among your favorite songs on your iPhone.
However, most iPhone users would already know that it requires a unique file format for ringtones and text tones – M4R – that the iPhone recognizes. So in this post, we'll show you how to slice up your favorite part of a song in your iTunes library and then transfer it to your iPhone for using it as a ringtone. Let's take a look.
Note: This tutorial requires the use of latest macOS 10.15 Catalina and the Music app.
Step 1. Decide the track
Select the track, songs, music, or any audio that you would want to turn into a ringtone and place the track where it's easily accessible. (Example: Desktop)
Note 1: You can use any track you ripped, but you can't use any item from Apple Music or iCloud.
Note 2: For the sake of simplicity, we will just use the term "track" throughout the tutorial.
Step 2. Trim the track
Trim the track down to the part you that want for the ringtones. If you are familiar with audio editing then this should be fairly easy. If you do not have any audio editing app on your Mac, then check out Acutterpro, it is a web service that allows you to edit audio for free.
Note: Your final track should not be longer than 40 seconds for the ringtone and not more than 30 seconds for the text tone.
Trimming music with Acutterpro
Go to Acutterpro.com, click Choose Files and upload your track. You can also drag and drop your songs on this panel.

Adjust the left and right handle to mark the start and stop point for your final track.

Click Cut and then Download to save the final track on your computer.
Step 3. Create AAC version for your track
Now launch the Music app, on the sidebar, go to Library > Songs, drag the trimmed track inside.
With the track selected, go to File > Convert > Create AAC version. This will create another copy of your track in .m4a extension.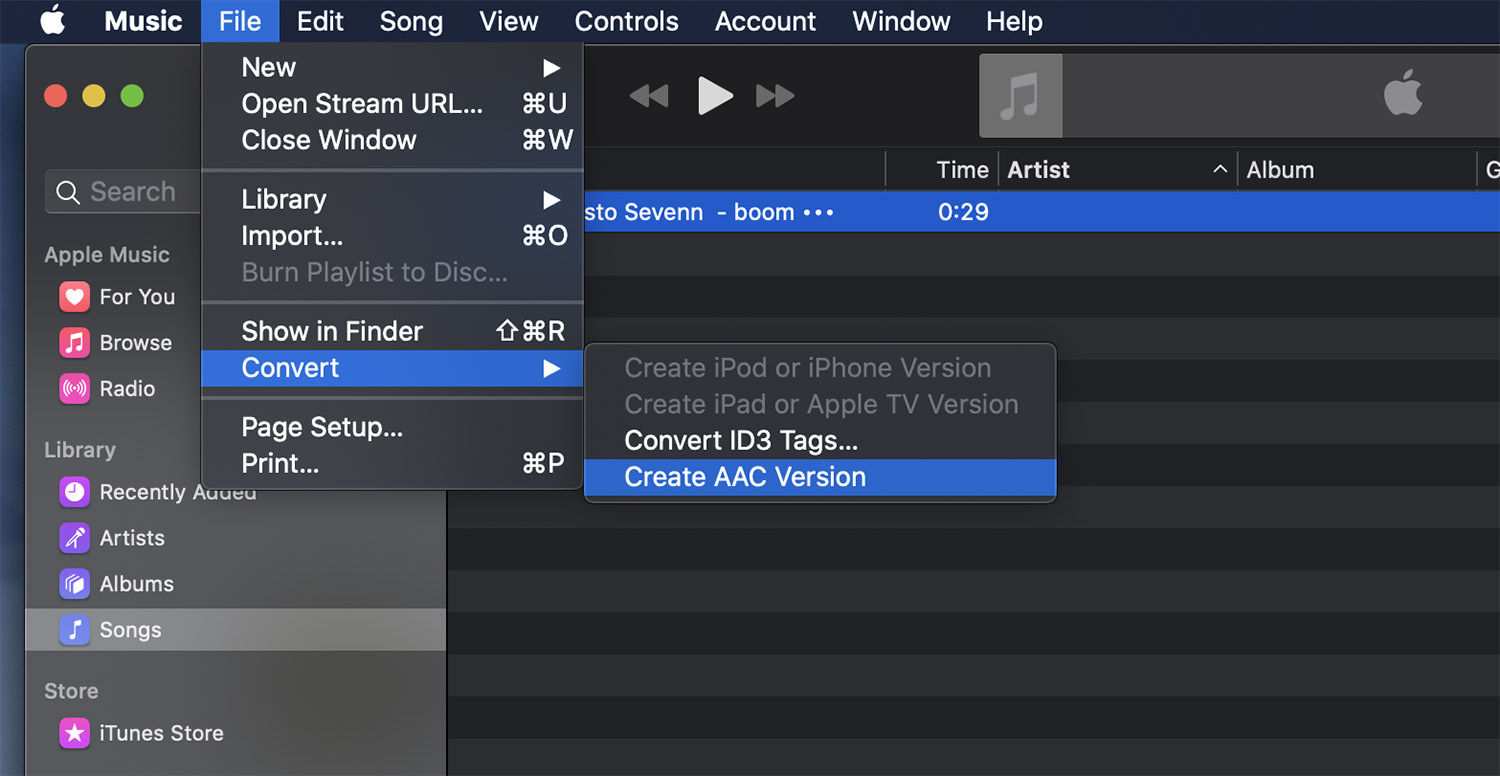 Step 4. Convert track to a ringtone
Right-click on the newly created track and select Show in Finder. In the Finder window, change the track file's extension from .m4a to .m4r.
Go back to the Music app, right-click on the same track again, select Delete from Library, and then Keep File so it's not sent to the Bin.
Step 5. Add ringtone to iPhone
Connect your iPhone to your Mac via lightning cable, launch Finder and select your iPhone under Location on the sidebar.
Make sure the General tab is selected, drag and drop the .mr4 track inside.
That's it, you should now be able to find in your iPhone under Settings > Sounds and Haptics > Ringtones.
The post How to Add Custom Ringtones and Text Tones for iPhone appeared first on Hongkiat.
You are subscribed to email updates from Hongkiat.
To stop receiving these emails, you may unsubscribe now.
Email delivery powered by Google
Google, 1600 Amphitheatre Parkway, Mountain View, CA 94043, United States