---
How to Enable Dark Mode in WhatsApp (iOS)
Posted: 13 Mar 2020 12:08 PM PDT
Apple introduced the Dark Mode in iOS 13.0 and later versions. In this mode, the system uses a darker color palette for all screens, views, menus, and controls. This feature gained instant popularity, and so many apps are now offering the Dark Mode option for their users – including WhatsApp.
In a recent iOS update, WhatsApp now finally offers the long-awaited Dark Mode feature. However, you won't be able to enable/disable this option in WhatsApp because it's not provided within the application.
Unlike the Facebook Messenger, where you can enable or disable the Dark Mode directly within the app, WhatsApp – though also being a product of Facebook – has no such option in the app itself.
So how do you enable dark mode in WhatsApp then? In short, the Dark Mode in WhatsApp inherits your iPhone's display setting.
It means that if the Appearance setting in your iPhone is set to "Dark," your WhatsApp will automatically be displayed in the Dark Mode. If it's not, then you'll have no luck getting the Dark Mode on your WhatsApp.
Enabling the Dark Mode in iOS
As mentioned above, you can only have the Dark Mode on Whatsapp if it's already enabled in your iOS. Therefore, you can take the following steps to enable the Dark Mode in your iOS:
Go to Settings > Display & Brightness
Under Appearance, tap "Dark."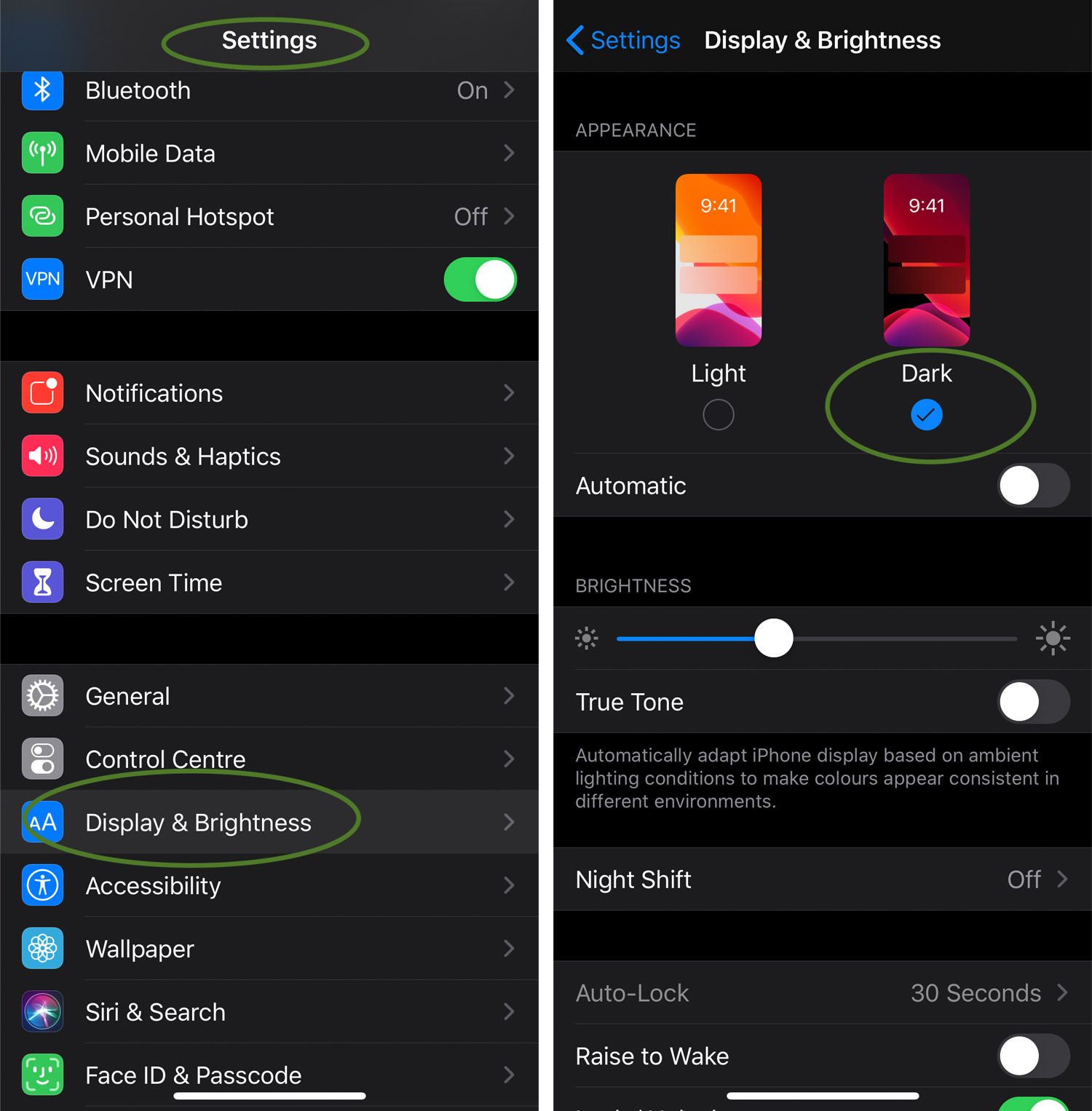 Additionally, you can also enable Automatic in the Settings > Display & Brightness and set a custom time when you want your phone to be displayed in the Dark Mode.
The post How to Enable Dark Mode in WhatsApp (iOS) appeared first on Hongkiat.
20 Free Email Marketing Tools You Should Know
Posted: 13 Mar 2020 08:14 AM PDT
Even after being in the internet marketing scenario since decades, email marketing is still one of the most effective techniques to promote your business online. Why? Simply because it offers features no other marketing technique does. Features like data-driven marketing, personalized messages, action-oriented campaigns, and cost-effectiveness.
However, email marketing is more than just writing a draft email and sending it to a list of contacts. It involves crafting a precise and engaging message, building the right contact list, tracking email interaction and much more. And for all those tasks you need to have a useful email marketing tool at hand.
So, before you start digging the internet, take a look at the following list of best email marketing tools and resources that are also FREE! All the tools mentioned in this post have a different set of features. So you have to read through all of them to find the one that suits you the best.
Email Marketing: Tips to Do it Well
Email Marketing: Tips to Do it Well
Nowadays, with the Internet spreading its wings all over the globe, more and more people are switching from... Read more
You can plug your emails into this online editor and receive feedback. The app lends a clean, minimalist style to your content, helping you to connect with your reader base. It provides suggestions on hard-to-read sentences, passive voice, jargon, and confusing words.
MailChimp is a popular cloud solution to manage email marketing campaigns including newsletters. It helps create a perfect email-marketing campaign, send emails, engage with readers, and collect statistics. MailChimp has an immense list of features including subject line researcher, email interaction tracker, and new contacts builder.
If you are not sure of how to go about your marketing campaign, Cakemail is all you need. It is simple to work with – just choose a custom design template, add the message, and send the emails to your contacts. Its numerous features like spam assassin, split A/B testing, and campaign analysis tools help you manage the campaign efficiently.
A tool that integrates with your app to send emails, Mailjet has a transactional email service. It has an interface to create and optimize emails, like MailChimp and CakeMail. Also, it provides an SMTP server and a set of REST APIs for integrating it into your app or implementing it in your automation system.
Moreover, Mailjet can segment lists, personalize emails, and test as well as compare email campaigns.
AWeber helps small businesses to build and add audiences. It helps engage subscribers at the right time. With this tool, you can import contacts, create emails, preview draft emails, and send it to your subscribers. Moreover, Aweber offers more features like auto-responder, segmentation options, reports, and various integrations to help you.
If you do not like working with HTML, VerticalResponse's email wizard can create emails for you. Its clean, simple interface helps design and send emails to your contacts. You can even integrate the campaign with Salesforce for advanced email marketing projects. Last but not the least, it provides email and social share statistics as well.
If you need responsive email designs in a snap, Campayn offers access to numerous templates. It imports contact list from any source including Gmail and Yahoo. Campayn can also automate sending emails and avail embeddable social sharing options. Moreover, it can help with analytics as well to make your campaign more successful.
If you need unique, creative, streamlined email templates, FreshMail is a perfect option. You can use its intuitive editor to create emails in various designs. It also offers multiple tools like mail auto-responder, inbox inspector, A/B tester, etc. Moreover, you can track the effectiveness of your email deliveries using real-time email tracking.
If you need to setup multiple email marketing campaigns, Sendicate has the right tools for you. You can draft and send or schedule a series of emails, segment your audience with search filters, and do lot more email marketing stuff quickly with this tool. Last but not the least, it also provides necessary statistics to improve your marketing.
Need an app that works standalone as well as with other apps? SendinBlue is a perfect tool for that. You can import a template or design your own newsletter and send it to your subscribers.
Moreover, its tools help you grow and segment your subscribers and avail reports with detailed insights to understand performance. It also provides plugins and integrations to help you advance or automate your marketing efforts.
You can create and send awesome, mobile-friendly emails using Sendloop's drag–create email builder. Sendloop makes it easy to import your emails and contacts from a third party platform like Gmail and Yahoo. It also lets you schedule and preview the emails and view the spam score for a mail before sending it, ensuring better conversions.
If you do not wish to learn new, heavily-featured email marketing tools, Sign-Up.to is a simple app to start work with immediately. It offers self-service as well as managed email marketing services, which is an excellent option if you do not have enough resources to handle the marketing by yourself.
Its easy-to-use platform offers all the tools to grow subscribers, create responsive emails, send them, and analyze your campaigns.
If you are looking for a clean, straightforward email marketing experience, TinyLetter is a perfect tool. It can help you if you do not need any reporting or other advanced features for your business. It is just a simple email marketing tool with no fuss.
Litmus Scope is an email inspector tool which inspects the code of your email and helps you fine-tune it for every platform, allowing anyone on any device to enjoy the best experience. You can review and share previews of your emails for desktop and mobile platforms. You can also take a look at any email's code to learn how other marketers pull it off.
PutsMail is handy for generating a preview of your email before it reaches your audience. The free tool lets you perform a functional test of the campaign. You only need to enter the email's HTML and subject line along with a few recipient addresses (mostly yours or your colleagues') to test it in real-time on real mail services.
Visual Website Optimizer tool works with pre-designed email marketing campaigns. It lets you test the email's visual appearance before sending it to your readers, helping you avoid any last-minute surprise issues. Moreover, it also gives insights into your target audience's wants and responses.
Social Media Share Link Generator is an excellent, small tool for generating links for sharing on social media. It is a revered choice as it combines social media and email efforts and helps you drive social shares directly from your email marketing campaigns. This free tool generates URLs, which you can embed in your marketing emails.
This online HTML Formatter is a great tool to format your email's code. HTML Formatter keeps spaces and tabs between content tags. It also allows you to choose an indentation level for formatting the HTML, making your code readable.
HTML Validator is an easy-to-use tool to validate your email's code. It reports various types of issues in your code including missing tags, duplicate IDs, invalid attributes, etc. and suggests numerous improvements as well. You must validate your code because invalid code may display faulty on browsers, i.e., bad experience for your readers.
The post 20 Free Email Marketing Tools You Should Know appeared first on Hongkiat.
22 Sites to Download Free Audio Books – Best Of
Posted: 13 Mar 2020 06:31 AM PDT
Audiobooks are basically audio recordings of your favorite books narrated by a professional or a renowned celebrity. There are many advantages of an audiobook over a hard copy book and even an e-book. You don't have to read it yourself, you can listen to it while taking care of your chores, multiple people can listen at the same time, you can carry hundreds of audiobooks with you as compared to hard copy books, and many other benefits.
Although audiobooks do come with a hefty price tag, there are many websites that let you download audiobooks for free. Of course, the titles can be a little old, but if you love some classic books, then you are going to have a great time. Check out the below mentioned 20+ websites to download free audiobooks.
Loyal Books has thousands of audiobooks in different categories. They offer a complete history of each book along with a book synopsis and the date of publication. You can download audiobooks as Mp3, iTunes Podcast, or listen to them in your RSS reader. Additionally, you can also download just specific chapters.
Download Loyal Books for Android.
Storynory is a storytelling website for kids that has interesting stories for kids as audiobooks and written text. The stories are written by professional contributors and I must say they are really interesting. You can both download the audio book or read it if you want.
Download Storynory for iOS.
LibriVox is a community-driven free audiobooks website where contributors narrate popular books and make them accessible for readers. Although most of the books are professionally narrated, but you may also find books that are not narrated very well.
Download LibriVox for Android, or iOS.
This is a subscription based audiobooks service that lets you read one book every month for a $14.99 fee. However, they let you have one book for free with their 30-day trial. If you are looking for newer popular audiobooks for free, then you can get one here for free.
Download Audiobooks for Android, or iOS
LearnOutLoud is a hub of free and paid audio/video learning material with thousands of free audiobooks available. Most of the books have a focus on learning, but there are me fun stories as well. LearnOutLoud also offers personal reviews of books to better understand what it's about.
Download LearnOutLoud for iOS.
Project Gutenberg is a great resource for finding classic e-books and audiobooks from the public domain. The books are narrated by volunteers of Project Gutenberg and similar audiobooks websites, such as LibriVox. You can find both human-narrated and computer-narrated books.
Downlaod Project Gutenberg for Android, or iOS.
Lit2Go is another great source where you can find thousands of audiobooks of different categories. They do a great job of summarizing books, and also offer a recap of each chapter of the book.
Audiobooks.net is another paid subscription based audiobooks website that offers a single book for free when you sign up. There are over 50,000 titles to choose from and new ones are added frequently.
Audiobook Treasury has more focus on selling paid audiobooks, but it also offers a wealth of free audiobooks. Most of the free audiobooks are new and made available for free by the authors. You can also find some renowned old titles.
Openculture isn't actually a website that hosts audiobooks, instead, it lists popular titles that are copyright-free along with links to download them. Currently, there are over 900 audiobooks listed, but the list gets updated frequently.
Have you known that libraries also have free audiobooks along with hard copy books? Many libraries have started giving away free audiobooks, all you need is a library card. Overdrive helps you find libraries near you that offer free audiobooks and let you listen to paid audiobooks for free.
Downlaod Project Gutenberg for Android
Archive.org has one of the biggest archives of classic audiobooks collected from different sources. There are over 13,000 free audiobooks listed and you can find almost any classic title. The interface is really easy to navigate and you can both play the audiobook in the web app and download it in different formats.
If you are interested in sci-fi and fantasy audiobooks, check out Lightspeed Magazine. The books are written and narrated by Lightspeed Magazine authors. The audiobooks are both professional and interesting.
Download Lightspeed Magazine for iOS, or Kindle.
eJunto provides you with useful books on philosophy and American history, and you can also find the autobiographies of some American presidents. If you are interested in American history, give the site a visit.
Download eJunto for iOS.
Scribl is another great site to find interesting audiobooks, written by Scribl authors. There are audiobooks from almost every genre and you can get the audiobooks on iTunes as MP3 or listen to it in your RSS reader. If you like a book, you can donate to Podiobooks authors as well.
Download Scribl for iOS, or Android.
If your kids love stories then check out the "Audio Stories" section on the Light Up Your Brain website. Here Chuck Brown, the admin of Light Up Your Brain, reads popular kids' stories that you can download for free. The narrator's voice is calming and friendly for children.
Manybooks is a reliable website to get e-books but they also have a section for audiobooks with a collection of over 1700 audiobooks. You can find many classic titles here, and Manybooks also displays the Flesch reading ease score for each book to tell you how easy it would is to read the book.
Download in mp3 or m4b format (for the iPod) all your favorite books in audio format. Indexing is done alphabetically by the author's last name to make your searches easier.
BookRix is a friendly, book-loving community that provides freebies and contests. BookRix specializes in religious, fantasy-based and fictitious audio books for download.
Like its name suggests, this site is great for downloading audio books which are suitable for your young children, with popular titles like "Snow White and the Seven Dwarfs".
The site's owner does her own recording, so you may hear sounds of her dog barking in the background, but this site's still a great source for an audio bedtime story.
PodCastle is the first fantasy fiction audio magazine; every week, they feature free, fictional audio stories for fantasy lovers. You can also submit your own fiction or recordings for a fee.
Read Also: 20 Best Websites To Download Free EBooks
The post 22 Sites to Download Free Audio Books – Best Of appeared first on Hongkiat.
Create Beautiful "Call to Action" Buttons With This Library
Posted: 13 Mar 2020 03:19 AM PDT
Every great homepage needs a strong call-to-action (CTA) button. This guides visitors towards whatever action you want them to take, whether it's signing up for a new account or purchasing something from your e-commerce shop.
But you don't have to create CTAs from scratch. You can either go for dozens of custom CSS3 buttons all over the web or use a similar tool that can make things easier for you.
One tool I really like in this regard is this gradient button library created by Colorion. It has got dozens of custom gradient combinations with really cool hover effects.
Just a quick scroll down the page should show you how much there is to pick from. Colorion must have at least 100+ buttons in this collection, and new gradient combos are added every so often.
If you see a button style you like just click the "get code" link underneath. From there you can just copy/paste the codes into your webpage and voilà! Beautiful gradient buttons without the strenuous coding.
You can actually dig deeper into Colorion to find a few other color-related tools. Most of them are pretty niche, like the image-to-material generator which takes an image and converts it to a material design color palette.
But their gradient button library is probably the best tool for web designers.
Each hover effect is included with the CSS so you can edit that animation style to suit your design.
If you like designing with gradients then you'll adore this library.
Granted not all of these buttons can work in every website. But you can likely get most of them working if you center your site around similar gradients.
And if you have any questions or suggestions for the site you can shoot a quick tweet over to the creator @csaba_kissi.
The post Create Beautiful "Call to Action" Buttons With This Library appeared first on Hongkiat.
You are subscribed to email updates from Hongkiat.
To stop receiving these emails, you may unsubscribe now.
Email delivery powered by Google
Google, 1600 Amphitheatre Parkway, Mountain View, CA 94043, United States