---
20+ Hand-picked Valentine's Day Mobile Wallpapers
Posted: 11 Feb 2020 02:11 AM PST
Valentine's Day brings a special mood of celebration. It's not just for lovers or couples, the day is for celebrating love for everyone. People find different ways of expressing their love on this occasion – one of which is a lovely mobile wallpaper.
If you like to bring the festivities of Valentine's Day on your mobile phone, take a look at these Valentine's Day mobile wallpapers that range from cute to absolutely adorable. Take a look at the complete list to get blown away with cuteness.
The post 20+ Hand-picked Valentine's Day Mobile Wallpapers appeared first on Hongkiat.
Man to Machine: How to Reboot Your Humanity
Posted: 10 Feb 2020 07:43 AM PST
Computer technology is everywhere, in multiple formats, under different patents, most calling for the same outcome behavior – use. Unfortunately, computer-using cannot be sustained for too much longer without a severe impact. Computers are supposed to make our lives better, but sometimes, their side effects cause more damage than good.
In this article, I'm going to talk about how we are turning into machines without realizing it, the impact this has on our global society, and a potential solution to break out of this. My goal is to help you to take charge of unnecessary machine-like demands that modern computer technology has been imposing on us.
Hi, I'm Luis. First off, I don't hate technology. In fact, I make a living teaching it to my students. I am a Professor of Communications Media at Indiana University of Pennsylvania, and I study the impacts of technology in learning.
I gave a TEDx Talk titled, "Breaking Free From Technology" at TEDxPhoenixville in the United States. In it, I presented research results on the impacts of technology on human behavior along with a provocative thought that when you use computers excessively, you won't be free of side effects.
Not safe from turning into computers
The human brain wasn't made to process large amounts of information continuously without rest. Our brains have limited capacities, will get tired, and break down over time if we continue to abuse them. It isn't rocket science or science fiction; it is plain common sense. The idea that we can emulate the machine, without experiencing side effects, is dangerous.
In reality, societies are already emulating the pace of living of the machine and setting societal norms based on computer behavior. We are using smartphones and iPads at the dinner table, tweeting about an emergency first before calling for help, and working not from 9-to-5 but 9-to-forever.
We are constantly being bombarded by email alerts, Facebook notifications, tweets, texts, etc. and working during vacations and almost always well into the night. And we let that happen to us.
Man and computer are different
If you haven't noticed, the human brain wasn't made to work on a constant flow of information overload. It is a major error to comparatively measure the speed and processing power of modern computers with our working brains, especially as a means to dictate work productivity levels and expectations.
Man and machine, they are very different. When our computers don't perform to our expectations, we put in more RAM or simply get a faster computer. But when we're talking about humans, we can't be working 60 hours a week, even though this is the accepted reality of our times today.
Being connected is actually forcing us to work longer and faster than before. Thus we force our brains to work constantly like a computer. Ironically, computers must function logically to work. Humans often behave illogically, but amazingly, we "work" even under these circumstances.
What's in store for us?
Our relationship with computers will take us through three phases:
1. Process of transformation
We are living now in the middle of what I call the process of transformation. It is a period where humans are starting to become robotic in behavior due to high frequency and extended exposure of computer use – the higher the frequency and exposure, the quicker the transformation.
In this phase, humans are more humans than the machine (in behavior).
3. Computer Robot Syndrome
After the transformation process, the global community will exhibit computer robot syndrome. It will also be a temporary phase, but different from the process of transformation, humans will behave more like machines, resulting in high levels of logic, immediacy, and quick behavioral responses.
During this phase, creativity will take a significant dip.
3. Total burn out
In about a decade, computer use will accentuate to a level that the human brain won't be able to catch up, resulting in a total global burn out era. I call this phase the human reversal phase.
As soon as our society experiences a mass epidemic of anxiety, millions are going to burn out and realize that computers are not an extension of man, but a tool that reminds us how human we are.
In the end, machines will end up reinforcing our humanity – making us realize our limitations, and how human we are. It is in this phase that humans will behave more like humans as we understand and question machine behavior.
The bad news is that until the human reversal phase arrives, we are temporarily going to behave like a machine and see no wrong with it, working ourselves to death, and accepting it as a fact of life.
Final words
Thanks to God, I experienced my technology burn out. As a consequence, I have personally experienced the human reversal phase. I am not a machine, and no computerized device is an extension of me. I am now 25 pounds lighter, still, work long hours but will take breaks in between, honor my wife, and can even find time to go to Church on Sundays, and exercise.
You don't want to be an extension of anything, especially of a machine, trust me. Taking a step back from using the computer is like taking an aspirin when having a fever. It helps, but it doesn't solve the problem. It only fixes the consequences.
It is only after a total technology burns out from mental exhaustion and fatigue that folks will stop their computer-like neurotic behaviors. Brace yourselves; it's going to be a bumpy ride.
Editor's note: This post is written by Dr. Luis Almeida for Hongkiat.com. Luis is an Associate Professor of Communications Media at Indiana University of Pennsylvania (IUP).
The post Man to Machine: How to Reboot Your Humanity appeared first on Hongkiat.
5 Essential Plugins to Manage Multiple WordPress Sites
Posted: 10 Feb 2020 05:14 AM PST
For different kinds of sites running on WordPress, you need some particular type of plugins. For instance, for an online store, you need e-commerce plugins. Similarly, for a photography site, you need image-related plugins. However, if you're a multisite admin, you can administer a WordPress Multisite network along with some useful plugins to help you manage your different websites.
So, in today's post, I am going to showcase a list of handy and useful WordPress plugins for managing multiple websites. I know you may have already heard about some of these plugins, but I kept them to compile a complete list of multisite plugins that work for everyone — even newbies. Let's take a look.
Jetpack, the multi-module plugin from Automattic, provides numerous features for multisite installations. What makes it interesting is that it protects your sites from brute force attacks and also monitors the uptime of your websites for free. Moreover, you can also configure 2-factor authentication for your users, and check stats and analytics in a single panel.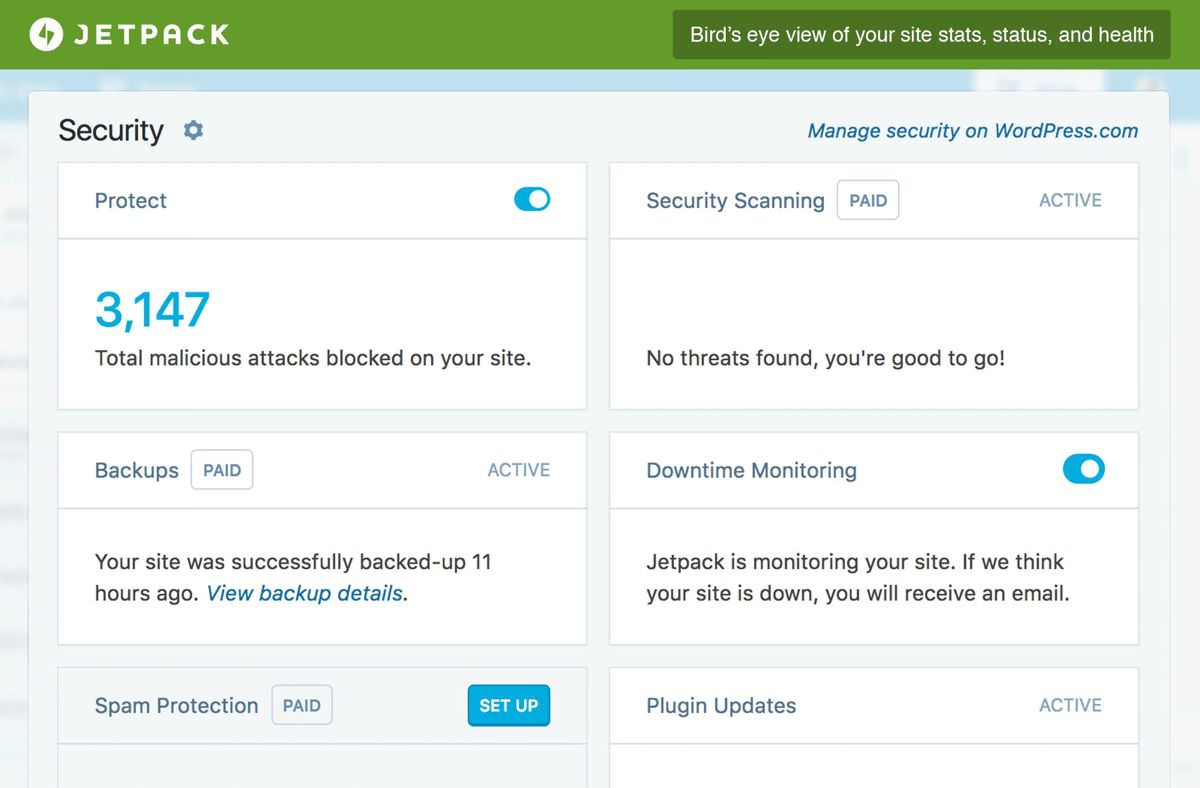 With Jetpack, you can also avail of its content creation and optimization tools, including an image CDN, simple embeds, carousels, slideshows, extra widgets, etc., and discussion tools like email subscriptions, social login, and many more.
A quite handy plugin to manage content on your WordPress site installation. It allows you to copy or update from one site to the other sites (sub-sites). The plugin supports all kinds of post types in WordPress, including the post, page, terms like the category and tag, media, and can perform a single copy of it or in bulk.
MultilingualPress takes WordPress multilingual content quite differently. Instead of creating new fields or meta, it works with sub-sites in WordPress Multisite. You can create a sub-site, set the locale language for the site, and associate the website and the content with the ones from the other sites.
The plugin does not lock you in since it does not create custom fields for the content. When you deactivated the plugin, your content will still be there. It's a pretty smart way to manage multilanguage content.
Managing users across multiple WordPress sites can be a tedious task. This plugin may give you a little convenience on that by adding the ability for the users to delete their accounts themselves. It's also shipped with plenty of settings. You can enable it Network Wide, which will allow you to remove the user in all the subsites, enable it for a specific user role, and customize the email confirmation as well as the authentication.
This plugin adds an additional menu to the WordPress Multisite admin bar, as we can see below. It's like shortcuts. Instead of clicking several steps, you can click once to get there immediately. These can help you to save quite an amount of time when managing the site on the dashboard.
This plugin improves the dashboard's network area for super admins with more info and quick utilities. These include adding useful items to 'Network Admin' admin bar, stating sites are having a particular plugin or theme enables, etc.
You can even change the footer texts to get stats on RAM, SQL, etc. Not only these, but this plugin also helps you to remove the WordPress logo from the admin bar and add favicon beside site name in the admin area, helping you to identify any site quickly. Though these may seem small improvements, I bet they can save you a few minutes a day.
This popular caching plugin generates static HTML files for your WordPress blog's PHP scripts, and then after, your web server serves static files. WP Super Cache is backed by the Automattic team and provides multisite support, meaning you can install it on a multisite network and configure its settings, and it speeds up every site on your network.
It provides various options to do the same, and you can also enable or disable caching per sub-blog on your multisite network. And that means your website will have better page loading speeds, and that also means better search page rankings.
Yoast SEO improves your site's SEO from all required aspects. It enables you to prepare your posts for search engines, including optimizing the use of focus keyword, optimizing the post's meta information. The plugin is multisite compatible, and it's even possible to configure a set of default settings for all blogs on the network.
Using its snippet preview, you can determine how your post will look in the search results, and also edit its meta title and description. The plugin helps you to improve your site's ranking in search result pages, and increase the click-through rate for organic results.
This plugin helps to save and store your WordPress installation in full, including the "wp-content" directory. And in the case of an emergency or data loss, you can easily restore everything with a single .zip backup file. The plugin being multisite compatible, you can take backups of the whole network, or any sub-blog without any hassle.
As a requirement, the plugin does enable you to store the backup to a cloud drive to prevent file loss or damage. That being said, you can also push the backups to an external backup or storage service like Dropbox, S3, FTP, etc. Moreover, the plugin does additional optimization tasks optimizing and repairing databases, etc.
WP Security Audit Log is a comprehensive audit log and user monitoring plugin that keeps a record of all activities occurring on a multisite network. Using this plugin and checking its notifications, you can track suspicious activities and prevent security issues.
Not only this, you can even monitor user activities, .e.g, when someone logs in or out from their dashboard, when a new user is created, etc. You can think it like a security camera in your office that tries to protect things and records video to check on thieves.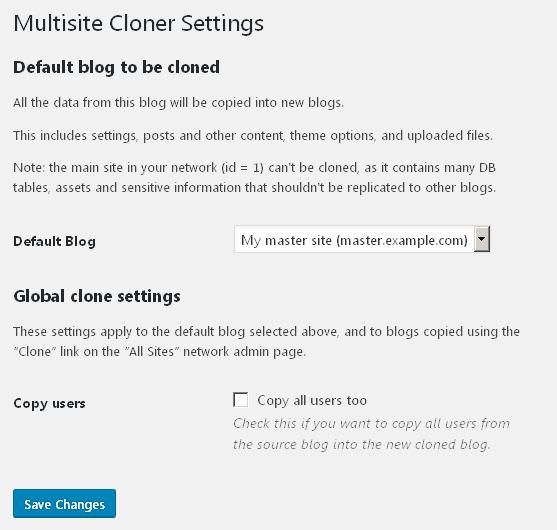 Of course, you can later deactivate or delete a clone same as you can do with any other sub-blog on a multisite network. Though it works as expected, yet it misses a feature, using which I could specify which all things (posts, plugins, etc.) should be cloned.
User Role Editor lets you change the roles of users, excluding the administrator, of course. You can simply edit user roles and assign them capabilities per their responsibilities, e.g., a writer must have "create_posts" and an editor must have "publish_posts" capabilities.
Apart from that, you can create and delete the self-made roles for users having restricted or mixed types of capabilities. Moreover, as a bonus feature, you can also remove the unnecessary roles left behind after uninstalling other plugins.
With the User Switching plugin, you can instantly switch user accounts by quickly logging in and out as your preferred user. The switching process is entirely secure, and only super admins can do this on multisite installs. This plugin uses the cookie authentication system while remembering the accounts, thus also prevents leaking passwords.
Then after, you can quickly swap back to your super admin account with a single click using the "Switch back" link on the dashboard screen or in the profile menu. That being said, this plugin is great for test environments where you need to log in and out between different accounts, e.g., if you wish to test a user role's capabilities set by the above plugin.
This plugin shows a list of inactivated user registrations, wherein you will be given the option to resend the original activation email, or you can also manually activate those users. It helps you catch false registrations and resend emails for genuine registrations that may have been caught by spam filters.
This plugin adds multilingual support to a multisite network's blogs, and thus, enables you to manage translations of posts, pages, tags, categories, and custom taxonomies. That means, using this plugin, you can easily translate your blogs and reach out to more people who will like to read your blog posts or reach to you in a new language.
This plugin helps you manage all robots.txt files for all sub-blogs on a WordPress Multisite network. You can create unique robots.txt files for individual websites, and amazingly, this plugin also allows you to mass update all the sites in the network. You can even scan and clean the old robots.txt files across blogs of the multisite network.
Wrapping up
I always suggest to install as less WordPress plugins as required or possible, and this post is no exception. And although I feel all above plugins are useful for a multisite network, but let me tell you that even I have not installed all of them on my network.
Happy administering, and remember, less plugins means more performance and security.
The post 5 Essential Plugins to Manage Multiple WordPress Sites appeared first on Hongkiat.
You are subscribed to email updates from Hongkiat.
To stop receiving these emails, you may unsubscribe now.
Email delivery powered by Google
Google, 1600 Amphitheatre Parkway, Mountain View, CA 94043, United States