---
Why you can't overlook the small details in the pursuit of innovation
Posted: 29 Feb 2020 01:20 PM PST
This week, we read a very short story, The Great Silence, as we start to head toward the end of Ted Chiang's Exhalation collection. This story asks questions about how we connect with nature, and also how to think about innovation and where new ideas come from.
We will finish the remaining two stories in the collection in the coming week, and then it will be time (sadly!) to change books. I'll announce the next book in the book club hopefully shortly.
Some further quick notes:
Want to join the conversation? Feel free to email me your thoughts at bookclub@techcrunch.com (we got a real email address!) or join some of the discussions on Reddit or Twitter (hashtag TCBookClub)
Follow these informal book club articles here: https://techcrunch.com/book-review/. That page also has a built-in RSS feed for posts exclusively in the Book Review category, which is very low volume.
Feel free to add your comments in our TechCrunch comments section below this post.
Reading The Great Silence
This is a quite short story with a simple message. The narrator is a parrot discussing humanity's quest to seek out artificial life elsewhere in the universe. The parrot, observing these actions, reflects on why humanity spends so much time looking for intelligence elsewhere, when it itself is intelligent, and located right next to us. The devastating line Chiang delivers comes toward the end:
But parrots are more similar to humans than any extraterrestrial species ever will be, and humans can observe us up close; they can look us in the eye. How do they expect to recognize an alien intelligence if all they can do is eavesdrop from a hundred light-years away?
The author offers us some obvious points to think about around environmental destruction and species extinction, and those are obvious enough that I think any reader can sort of surmise how the story connects to those issues.
So I want to instead connect this discussion to a theme dear to the heart of TechCrunch readers, and that is the quest for science and innovation.
To me, Chiang isn't just criticizing our disdain for the animal species around us, but is also critiquing an innovation community that constantly strives for the big and "shiny" discoveries when so many smaller and local discoveries have yet to be made.
We invest billions of dollars into satellites and telescopes and radar arrays hoping to capture some fleeting glimpse into an alien world somewhere in the galaxy. And yet, there are deeply alien worlds all around us. It's not just parrots — Earth is filled with species that are incredibly different from us in physiology, behavior, and group dynamics. What if the species most alien to our own in the whole galaxy is located right under our noses?
Of course, there would be huge headlines in finding even a single-celled organism on another planet (assuming there was even some way to detect such life in the first place). But that is precisely the type of narrow-minded, novelty-seeking behavior that Chiang is pointing out here.
Nonetheless, innovation can be a weird beast. It isn't hard to look around the Valley these days and be dismayed at just how adrift a huge part of the industry is. We are creating more "smart" products than ever, yet huge social challenges and scientific frontiers remain completely unfunded. It's easier to raise funding to start up an upgraded handbag company with a new brand and marketing strategy than it is to build an engineering team to push quantum computing forward.
There are certainly many valid arguments for moving our money to more "worthwhile" pursuits. Yet, fresh ideas that change industries can sometimes come from the oddest places, with even frivolous products occasionally creating fundamental advances in technology. Facebook as a social network might be a time sink for its users, but its huge scale also triggered all kinds of new data center infrastructure technologies that have been widely adopted by the rest of the tech industry. Solving a frivolous problem became the means to solving a problem of more depth.
In the end, you need to seek answers. Don't overlook the obvious around us or get inured to the quotidian challenges that may just be the fount of innovation. Maybe figuring out the communication of parrots does nothing for us. Or maybe, exploring that area will open up whole new ideas for how to communicate and understand the neural patterns of speech. We can't know until we tread along the path.
Now, to take one aside before we close out: Exhalation is a collection of previously-published short stories, but Chiang manages to work in his arch-symbol of breath and air into this piece in a fairly tight way:
It's no coincidence that "aspiration" means both hope and the act of breathing.

When we speak, we use the breath in our lungs to give our thoughts a physical form. The sounds we make are simultaneously our intentions and our life force.
It's a symbol we saw most substantively in Exhalation (the short story itself, not this whole collection) which we talked about a few posts ago. It's a gorgeous little motif, and Chiang nicely embeds it to create an empathetic connection between humans and animals.
Some question about Omphalos
For the next and penultimate short story Omphalos, here are some questions to think about as you read the story.
What is the meaning of belief? How does belief influence both our views on our place in the world and our approaches to science and the scientific method?
Does existence and existentialism flow from external symbols or internal rationales?
How do religion and science mix? How did Chiang frame this narrative to make this question easier to contend with?
The story focuses on the dynamics of archaeology and astronomy — why these two disciplines and not some other field of science?
What's the ultimate message of the story? Or is there more than one that can be read into the text?
FDA allows new diagnostic technologies to test for coronavirus before receiving emergency approvals
Posted: 29 Feb 2020 01:15 PM PST
The U.S. Food and Drug Administration said today that it would allow new diagnostics technologies to be used to test for the novel coronavirus, COVID-19, at elite academic hospitals and healthcare facilities around the country.
The agency's new initiative comes as critics have assailed various U.S. government agencies for being woefully underprepared to effectively address the spread of the novel coronavirus in the country despite being aware of the potential risks the virus posed since the first cases were reported in Wuhan, China in early December.
As the first diagnosed cases of the new virus appeared in the country, U.S. Centers for Disease Control and Prevention had conducted only 459 tests. Meanwhile, China had five commercial tests for the coronavirus on the market one month ago and can now conduct up to 1.6 million tests per week. South Korea has tested another 65,00 people so far, according to a report in Science Magazine. Initial tests in the U.S. were hampered by the distribution of test kits which contained a faulty reagent — rendering the kits useless.
The CDC isn't the only U.S. agency criticized for its mishandling of the response to a potential outbreak. On Thursday a whistleblower complaint was filed against the Department of Health and Human Services alleging that the agency sent over a dozen employees to Wuhan to evacuate American citizens from the country without the proper training or protective gear, as first reported by The Washington Post.
Now, the Food and Drug Administration is opening the doors for research centers across the country to use new technologies that have yet to be approved for emergency use in order to dramatically increase the number of tests healthcare facilities can perform.
"We believe this policy strikes the right balance during this public health emergency," said FDA Commissioner Dr. Stephen M. Hahn, in a statement. "We will continue to help to ensure sound science prior to clinical testing and follow-up with the critical independent review from the FDA, while quickly expanding testing capabilities in the U.S. We are not changing our standards for issuing Emergency Use Authorizations. This action today reflects our public health commitment to addressing critical public health needs and rapidly responding and adapting to this dynamic and evolving situation."
The new policy allows laboratories to begin to use validated COVID-19 diagnostics before the FDA has completed review of the labs' Emergency Use Authorization (EUA) requests, the agency said in a statement.
In cases where the Department of Health and Human Services indicates that there's a public health emergency or a significant potential for a public health emergency, the FDA can issue these EUAs to permit the use of medical products that can diagnose, treat, or prevent a disease. The HHS secretary determined that the outbreak of the COVID-19 coronavirus was just such an emergency on February 4.
So far, the FDA has authorized one EUA for COVID-19 that's already being used by the CDC and some public health labs, the agency said.
"The global emergence of COVID-19 is concerning, and we appreciate the efforts of the FDA to help bring more testing capability to the U.S.," said Dr. Nancy Messonnier, director of the CDC's National Center for Immunization and Respiratory Diseases (NCIRD).
Development of new diagnostics tests are handled by the Biomedical Advanced Research and Development Authority, part of the HHS Office responsible for preparedness and response to health issues.
"This step may reduce development costs, speed the process for availability at more testing sites, incentivize private development and, ultimately, help save lives," said Rick Bright, the BARDA's director.
Startups like the Redwood City, Calif.-based genome sequencing device manufacturer, Genapsys, and Co-Diagnostics, another molecular diagnostics startup out of Salt Lake City, have been approached by the Chinese government and European testing facilities, respectively.
In the U.S. a number of large, publicly traded companies and startups are pursuing new diagnostics tools that can be used to identify the novel strain of the coronavirus.
"At BARDA, we are identifying industry partners to develop rapid diagnostics that can be used in commercial and hospital labs or even doctors' offices so that medical professionals and their patients have the information they need to take action," Bright said.
Coronavirus grifts crop up online for political gain and profit
Posted: 29 Feb 2020 01:03 PM PST
These days capitalism and democracy seem to mean that it's never too early to take advantage of the misery of others, and the outbreak of the novel coronavirus, COVID-19, is the latest proof point.
On Saturday the Washington Post reported that an agency within the State Department had compiled a report of 2 million tweets, which peddled conspiracy theories about the COVID-19 coronavirus outbreak.
Among the hoaxes compiled in the report and reported by the Post included the suggestion that the virus had been created by the Bill and Melinda Gates Foundation or was the result of a bioweapon developed by the Chinese government.
In all, these tweets represent about 7% of the total tweets surveyed by the government, according to the Post's reporting.
Critically, the report indicated that some of the misinformation spread online appeared to be the result of "inauthentic and coordinated activity," the Post reported the document saying.
The report mirrors warnings from cybersecurity firms like Check Point Software, which issued a report tracking the launch of new websites linked to themes around the coronavirus outbreak earlier this month.
According to the company's Global Threat Index for January 2020, "cyber-criminals are exploiting interest in the global epidemic to spread malicious activity, with several spam campaigns relating to the outbreak of the virus."
The company correlated Google search terms with what it deemed to be "malicious discussions" about the virus, and showed them to be tightly correlated.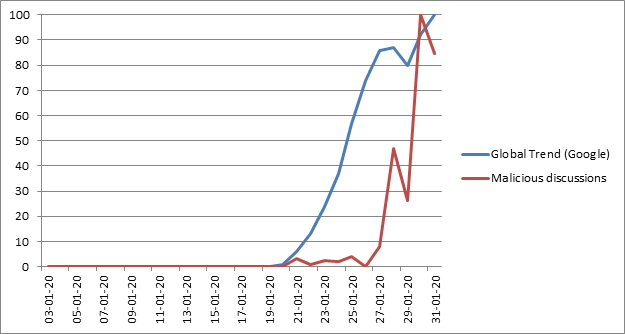 In one instance, a hacking campaign targeting web users in Japan distributed malicious email attachments by pretending to be a Japanese disability welfare service provider. The email provided misinformation about the spread of the coronavirus in several Japanese cities, and when a user opened an attachment to the email, they downloaded a modular, self-propagating Trojan virus onto their computer.
Email campaigns represent one threat, but another one that the security firm tracked was new websites with domain names linked to the virus.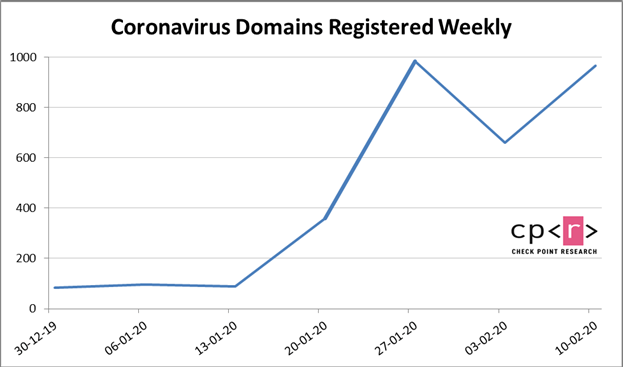 The company already spotted one fake website, "vaccinecovid-19.com". It was first created on February 11, 2020 and registered in Russia. According to Check Point, "the website is insecure, and offers to sell 'the best and fastest test for Coronavirus detection at the fantastic price of 19,000 Russian rubles (about US$300).'"
Facebook, Amazon and Twitter have all taken steps to remove misinformation about the novel coronavirus from their platforms including advertisements offering purported cures for the disease.
Earlier this month, the big tech companies met with representatives of the World Health Organization to come up with a plan and coordinate on ways to combat misinformation and scams online.
Earlier this week, Facebook issued the following statement about its continuing response to misinformation campaigns on the site:
As world health officials issue new guidance and warnings about coronavirus (COVID-19), we're continuing our work to connect people to information from regional and local health organizations and limit the spread of misinformation and harmful content about the virus.

Connecting People to Accurate Information and Helpful Resources

Anyone who searches for information related to the virus on Facebook is shown educational pop-ups on top of search results connecting them to expert health organizations including the World Health Organization (WHO). We've launched these globally over the last few weeks in all languages on Facebook, directing people to the WHO. In several countries we are directing people to their local ministry of health. For example, in the US we are directing people to information from the Centers for Disease Control and Prevention (CDC) and in Singapore, we're directing people to the Singapore Ministry of Health. Moreover, in countries where the WHO has reported person-to-person transmission and deaths, we've shown additional messages to people toward the top of News Feed with more information.
Startups Weekly: Why some fintech companies aren't blinking at customer acquisition costs
Posted: 29 Feb 2020 11:00 AM PST
[Editor's note: Welcome to our weekly review of news that startups can use from across TechCrunch and Extra Crunch. If you want this post by email, just subscribe here.] 
Why some fintech startups aren't blinking at customer acquisition costs
Distribution channels are getting saturated across the internet and beyond, and in many tech sectors the cost of acquiring new customers is crimping profitability. But so far, so good in the "great credit card craze," as Alex digs into this week for Extra Crunch. It turns out that the remaining revenue possibilities combined with the current revenues from interchange fees mean costs are staying relatively flat — or so say a few well-placed execs.
"If anything, our customer numbers are massively accelerating despite cutting back on marketing spend," explains Brian Barnes of M1 Finance. "And I do think that gets into how we positioned ourselves [as] a firm and what drives at the capital efficiency of how we've gotten to where we've gotten."
Feast or famine in early-stage funding
After Elizabeth Yin posted a popular Twitter thread last month about the bifurcation of fundraising outcomes in Silicon Valley these days, we caught up with the Hustle Fund cofounder to talk more. "I'm seeing companies at the Series A and Series B stages with 30% MoM growth that were popular before now struggle to raise their next rounds because they are not profitable," she writes in a guest column on TechCrunch. "The feedback they receive is to 'come back when you're profitable or really close to it.'"
She also noted that even though it does seem like there is a lot of money available, much of that is going to repeat entrepreneurs and/or companies with lots of growth and profitability in the numbers. In a companion interview with Alex Wilhelm for Extra Crunch, she notes that: "In the later stages, it is worthwhile to move to San Francisco because as you're growing your company, there are a lot more people in San Francisco who have built high-growth companies before, there's a lot of knowledge that I think is still insider knowledge in San Francisco itself. But at the earlier stages, I don't think that that's necessary."
Y Combinator publishes big new Series A round guide
Speaking of raising these days, this new guide could help. Connie Loizos caught up with co-author and YC partner Aaron Harris in an interview for TechCrunch. Here's one example he provides about the nuance it covers:
We explain how to work through a diligence request by an investor. Someone might say, 'Hey, can you give me a month-by-month breakdown of major customers?' And we've seen founders give them a full list of their customers, then the VC calls them, and if the customer is having a bad day or [the VC] reaches the wrong person, that bad reference check can sink a round. It's really important that founders ask instead about what the VC is trying to learn from the diligence request, then call those customers so they're ready, You also want to make sure that 15 investors aren't calling the same customer so that [that person or company] isn't overwhelmed.

Virtual worlds are finally becoming real
Despite the decades of unrealized dreams, breakout hits like Fortnite and Minecraft are showing the emerging opportunities for mass-market virtual worlds. Media analyst Eric Peckham is exploring the evolution of this trend through a seven-part Extra Crunch series, which he and many others believe will come to gradually define our lives. So far, he's published an overview, and Extra Crunch articles on gaming on social networks, our multiverse gaming future and why that future is not here yet. Stay tuned for his articles on the emerging competitive landscape and more.
Where top VCs are investing in medical and surgical robotics
Medical device and robotics startups raised roughly 600-700 rounds of venture capital in 2019, according to data from Pitchbook and Crunchbase, with most deals occurring at the early stage (over 25% of rounds occurred at the seed stage). With our 2020 Robotics+AI sessions event next week in Berkeley, be sure to check out our interviews with top med-tech investors in this week's investor survey on Extra Crunch.
Avoiding the on-demand trap
We're trying some thing new here — a preview of upcoming guest columns. The following note is from growth strategist Chris Yeh, co-author of Blitzscaling.
Thanks to the success of companies like Uber and Airbnb, a seemingly endless array of startups jumped into becoming "the Uber for X" or the "Airbnb of Y".  So many of these startups have struggled or failed. Why? The fell into the "on-demand" trap: Believing that the delivery mechanism (a smartphone-enabled marketplace) rather than the market determines success. If you apply the on-demand model to the wrong market, you'll be doomed to failure. To avoid the on-demand trap, avoid markets where the product or service A) is a low-consideration transaction and B) naturally lends itself to long-term buyer/seller relationships.

Want to learn more?  Look for a detailed explanation of the on-demand trap, coming to TechCrunch and ExtraCrunch soon.
Across the week
Twilio 2010 board deck gives peek at now-public company's early days (EC)
Startup malaise, startup ambition (TC)
For investors, late-stage fintech startups are a lucrative bet (EC)
What happens if a pandemic hits? (TC)
Instead of IPOs and acquisitions, exiting to community is one alternative (EC)
With better recall of our photos and videos, will our ability to forgive disappear? (TC)
Superhuman CEO Rahul Vohra on waitlists, freemium pricing and future products (EC)
How do we connect a child to technology? (TC)
#EquityPod
What a week. What an insane, heart-stopping, odd and stuffed week. I'm utterly exhausted. But, in better news, all of that is great fodder for podcast and chat, so today's Equity is pretty okay, if I may say so.

Danny and I chewed through all the stuff that we couldn't get out of our heads, like the markets falling apart and DoorDash's initial movement toward going public. But in keeping with the real beating heart of Equity, we also went over four venture rounds and spent some time talking about SoftBank.
Multiverse virtual worlds will be healthier for society than our current social networks
Posted: 29 Feb 2020 07:54 AM PST
The basis of the classic James Bond film "Tomorrow Never Dies" is an evil media mogul who instigates war between the U.K. and China because it will be great for TV ratings. There's been a wake-up call recently that our most popular social networks have been indirectly designed to divide populations into enemy camps and reward sensational content, but without the personal responsibility of Bond's nemesis because they're algorithmically driven.
(This is part five of a seven-part series about virtual worlds.)
The rise of "multiverse" virtual words as the next social frontier offers hope to one of the biggest crises facing democratic societies right now. Because the dominant social media platforms (in Western countries at least) monetize through advertising, these platforms reward sensational content that results in the most clicks and shares. Oversimplified, exaggerated claims intended to shock users scrolling past are best practices for individuals, media brands and marketing departments alike, and social platforms intentionally steer users toward more extreme content in order to captivate them for longer.
Our impending cultural shift to socializing equally as often through virtual worlds could help rescue us from this constant conflict of interest between what we recognize as healthy interactions with others and how these social apps incentivize us to behave.
Virtual worlds can have advertisements within them, but the dominant monetization strategies in MMOs are upfront purchase of games and in-game transactions. Any virtual world that gains enough adoption to compete as a social hub for mainstream society will need to be free-to-play and will earn more money through in-world transactions than from ads.
This Week in Apps: Coronavirus impacts app stores, Facebook sues mobile SDK maker, Apple kicks out a cloud gaming app
Posted: 29 Feb 2020 06:33 AM PST
Welcome back to This Week in Apps, the Extra Crunch series that recaps the latest OS news, the applications they support and the money that flows through it all.
The app industry is as hot as ever, with a record 204 billion downloads in 2019 and $120 billion in consumer spending in 2019, according to App Annie's recently released "State of Mobile" annual report. People are now spending 3 hours and 40 minutes per day using apps, rivaling TV. Apps aren't just a way to pass idle hours — they're a big business. In 2019, mobile-first companies had a combined $544 billion valuation, 6.5x higher than those without a mobile focus.
In this Extra Crunch series, we help you keep up with the latest news from the world of apps, delivered on a weekly basis.
This week, we'll look at the coronavirus outbreak's impact on the App Store, China's demand for App Store removals — and soon-to-be-removals, it seems. We're also talking about Facebook's lawsuit over a data-grabbing SDK, Tinder's new video series, the TSA ban on TikTok, Instagram's explanation for its lack of an iPad app and how Democratic presidential primary candidates are performing on mobile and social, among other things.
Headlines
Coronavirus concerns send Chinese ride-hailing apps crashing, games surging
One of the many economic fallouts related to COVID-19 coronavirus concerns is a significant decline in the usage of Chinese ride-hailing applications. According to Sensor Tower data, downloads of the three most popular apps — Hello, Didi and Dida — were down 75% year-over-year during the week of February 10 compared with the same time frame in 2019. Meanwhile, people staying home have been ordering food and groceries more often. Overall downloads of the top 10 apps in the food-ordering category increased by 68% from January 13 to the week of February 3.
Also on the rise are mobile games. According to a recent report by the FT, users in China downloaded a record number of games and apps as the virus outbreak confined people to their homes. More than 22 million downloads were registered in Apple's App Store in China during the week of February 2, according to App Annie, and average weekly downloads during the first two weeks of February were up 40% over the same time last year.
Meanwhile, Chinese tech giants, including Alibaba and Tencent, have been deploying health-rating systems to help authorities track the movements of millions of Chinese. Alibaba had been tapped to explore the rollout of a rating app to help the government control who can travel into and around the city. Along with Ant Financial, it worked to develop a smartphone-based rating system in conjunction with the government of Hangzhou. Tencent created a program for Shenzhen, reported The WSJ.
Top mobile game Plague Inc. pulled from China's App Store amid coronavirus outbreak
Plague Inc., a simulation game with more than 130 million players, was pulled from the Chinese App Store this week, a move that appears to be linked to the coronavirus outbreak. The company behind the game, Ndemic, posted a statement announcing that the game's content is now considered "illegal in China as determined by the Cyberspace Administration of China." Ndemic says it's trying to reach out to find out what, specifically, it could change in order to get the game back in China.
You are subscribed to email updates from TechCrunch.
To stop receiving these emails, you may unsubscribe now.
Email delivery powered by Google
Google, 1600 Amphitheatre Parkway, Mountain View, CA 94043, United States