---
15 Giant Origami Installations That Will Amaze You
Posted: 14 Jan 2020 07:32 AM PST
If you think origami is just for making swans from napkins, well, it's actually a little more than that. While the usual origami can be made at home with paper the size of your palm, the 15 giant origami sculptures in this post are going to blow your mind.
Days and weeks have been put into creating these gigantic and ridiculously oversized origami projects. From fantastic giant swans, to bulls, dragons and even a paper boat (you just have to have one of those), these giant installations were inspired by classic origami designs and blown up to humongous proportions for your viewing pleasure.
70 Beautiful Examples of Origami Paper Art
70 Beautiful Examples of Origami Paper Art
We've previously showcased some really cool paper sculpturing artwork; today we are going to show you another type... Read more
Swiss origami artist Sipho Mabona has folded a massive life-sized elephant from a specially produced 2,500 square foot sheet of paper at the Art Museum in Beromünster, Switzerland. Sipho needed the help of up to 10 people to lift and fold the elephant into reality.
Commissioned in 2010 by the Customs House in Sydney, Australia these tigers were then adopted by the World Wide Fund for Nature (WWF). These "large" cats are made of recyclable materials and are brought to life with pulsating low energy LED lighting.
These origami horses are currently located at the Santa Fe Botanical Garden as part of the artist's "Origami In The Garden" exhibition. It's quite amazing how it can look delicate yet strong at the same time.
Folded from 9′ x 9′ squares, these giant origami blackbirds were created by photographer Matthew Gilson. They now greet visitors in his Milwaukee Avenue studio.
This paper boat, suitably named "HMS Origami", has floated down the River Thames in London. It measured 5.4m in length. German conceptual artist Frank Bolter (not him in the picture) used a special sort of paper that would normally be used in the manufacture of drinks cartons.
Made by the Hawaii Origami Club, this cool red origami dragon represents a particular element of fantasy that could easily be found in various children's books.
This chair was made using a sheet of polypropylene, which is light and rigid enough to become the structure but soft enough that it can actually bend many times – makes for a comfy sit.
Ascension, The Crane by Crimson Collective. Coachella is one of the biggest music festivals in the US. In 2010, this massive installation called Ascension, The Crane became the centerpiece at the festival's entrance. It was illuminated with colored lights, which makes it appear even more powerful and huge.
The mythological pegasus has always been an inspiration for many. Installed in 2014, this white pegasus origami structure is an amazing 21 feet tall.
This white bison which was folded then cast in bronze still looks delicate like paper. This artwork was inspired by an origami paper bison made earlier by artist Robert J. Lang. Its size is 52'³ x 20'³ x 85'³.
Last year, Logan Square welcomed its visitors with a huge 10-foot tall origami crane created out of bed sheets. Sima Cunningham, a 24-year-old musician who lives at the house off Fairfield Avenue and Logan Boulevard, as well as a group of her friends came up with this idea.
Debuting in 2012 at the 18th Biennale of Sydney, this large-scale installation is suspended from the ceiling. It is made up of origami cubes and glass clouds and acts as an interactive soundscape.
Originally trained as a sculptor, Mr. Joisel was a self-taught origami artist. His work resembles that of no other artist in the genre. This giant folded rhinoceros is made from a single sheet of paper with no cuts.
This vivid and awesome installation of origami people hanging from balloons was featured as part of the Afrikanischen Literaturtage in September, 2001 at Kornschütte Luzern.
Giant Dynamic Interactive Origami Sculpture by Jonas Lobo
This giant motorized origami sculpture resembles a shell. It was made out of a single sheet of folded paper, wires and various electronic components and was shown at the NYC Maker Faire 2013.
The post 15 Giant Origami Installations That Will Amaze You appeared first on Hongkiat.
5 Career Myths That Need to Be Busted
Posted: 14 Jan 2020 05:43 AM PST
Are you a wide-eyed fresh graduate looking to become a productive member of society? Or perhaps you are someone who made a wrong career choice and now wants to start anew? It's going to be a tough ride since you are only limited to your degree, skills, and level of experience, right?
Wrong! There were times when such a notion could have been true, but not anymore. We are in an age where your degree, skills, experience, and location no longer matters.
The only limit is yourself, and we are about to break down these concepts that many people still hold about a professional career – concepts which were once true, but not anymore. Let's start.
1. Career & salary will always start from the bottom
Everyone has to start and be content with receiving minimum pay, right? This is the standard for everyone who is starting their career in any industry. It doesn't matter if you have years of experience in a different field, if you enter a new field the words "Pay is depending on experience" is always on the fine print.
Note that in this context, the experience is a blurred combination of years spent working in that field plus actual working skills. And of course, that's true, having several years of experience in a given field means you are more skilled. Or is it? At least some decades ago this was true.
Not anymore. Nowadays you can spend anywhere from a month to half a year polishing your skills in web or mobile app development from scratch without actual work experience and still land a job that pays double or triple of what you are expecting to get. This means you no longer have to start from the bottom.
Starting from the bottom and climbing your way up the ladder is an old concept, it no longer applies – at least in the non-corporate setting. With today's bustling startup scene, you don't have to start in an entry-level position or take in the lowest paying job in your profession. Status doesn't matter, only skills. No bureaucracy, no office politics.
The number of years no longer count, but what counts most is your skills. Head over to RemoteOK and see for yourself if the jobs posted there fit your skills – usually the pay starts anywhere from $20,000 per year to $100,000 depending on the level. But you get the idea – it's all about what skills you can offer, not years.
2. Big companies mean better opportunities
It was my dream to wake up in the morning, wear my suit and tie, and work in a corner office at the top floor of a big company. Today I'm writing this article in my pajamas and I'm the happiest man alive. But I digress.
Working for big companies means there is a lot of space for growth, many opportunities to discover, right? Logically speaking that is how it should be since big companies have the resources to do that. But that is way too far from the truth.
When you work for a large corporation, a multi-billion multi-national company, there is very little room for growth. Every position is filled and you can't hope to get a promotion in just a year or two or three, simply because the people who are in those positions that you may covet, have been there for several years to a couple of decades themselves.
But of course I'm not saying that there aren't any chances of growing, I only mean to say that it is significantly slower, by a lot.
Now consider this, if you work for a startup with a rapid exponential growth, and if you are one of its first employees, wouldn't that only mean that you'll be propelled with them to the top as you help them grow?
On that note, why not aim to be a person who is worthy to be a co-founder of a startup?
3. Best jobs can only be found within your niche
Fresh graduates aren't the only ones who fall into this myth, even people with years of experience somehow spiral down this thinking that they should only work within their niche, industry or degree.
I, for one, know three registered nurses who work in web design and development. I studied information technology and yet here I am writing articles for blogs and on the side working as a marketing consultant.
Many people would say that it's a waste to work on a different field since they spent years studying something else, hence they spend several months to years looking for their "dream job".
The idea that you should work based on the things you studied during college or based on your work experience, will only isolate you to a very small world that you know. As I said above, what matters is your skillset and your willingness to learn, not what your degree or actual experience is in different industries.
4. Being a jack of all trades is bad, you should be a master of one
Mastering only one trade will be your funeral. The saying "jack of all trades, master of none" implies that a person is useful in many areas, but only on the basic level. This also implies that there is little room for growth as compared to those who are experts in a particular field or skill.
And it is true. Being the best in one thing means businesses will want you on their side. Say, for example, programming. Many software companies would want you in their team, and that is absolutely alright.
However, who's saying you can't be a master of several trades? If you are thinking that it is impossible, then you have already condemned yourself to not become one.
In today's fast-paced environment, those who are fluid enough in their skills are valued higher as opposed to those who only know one thing. If you know web design and development, marketing, sales, and the rest of the bundle, what's stopping a web startup from reaching out to you – you who know how everything works?
Read Also: Jack Of All Trades Vs. Master Of One: A Designer's Perspective
5. Going over and beyond is good
When you work for a company and dedicate yourself to it, even spending several hours a week working beyond normal hours, taking work to your home, and spending your rest days and holidays, it makes you into a team player who loves your company, right? And that's true, at least to you.
The truth is, you are only hurting yourself. Some months ago I wrote an article titled Why You Should Avoid Being Overworked which outlines why this is so. In summary of it:
No one is going to die if you stop working today. And it's true. You can always continue working tomorrow. Clock out when it's time, go meet with friends, call your parents, walk your dog, watch a movie, relax. It's your life anyway.
The company you work for is a business. It's not your family, definitely not your friend. All it cares about is money no matter how much they tell you that they care for you. In the end, if they don't make money from you, you'll be cast aside.
You are, eventually, an expendable resource. There are literally millions of people looking for work and your company won't think twice to replace you or lay you off if it means they can save money from doing so.
The Japanese are particularly bad at this culture of overworking. This is an extreme form of it, of course, but you get the idea. You work for yourself, not for the company. Remember that.
To end
The world is rapidly changing and the way working works does too. What was true years ago is no longer particularly applicable today. You don't have to follow the "rules" of the game anymore, you can skip the lines, build something for yourself, experiment, and just do what you want to do. The only limit is yourself.
The post 5 Career Myths That Need to Be Busted appeared first on Hongkiat.
5 Best Apps to Monitor Mobile Data Usage
Posted: 14 Jan 2020 05:11 AM PST
It's always a good idea to keep track of your mobile data usage so you can avoid exceeding your data usage quota. Among the two main mobile operating systems, Android natively provides you an interface to keep track and monitor mobile data usage; iOS on the other hand, doesn't offer much information.
So in this post, I am going to discuss some useful apps (both iOS and Android) that you can download to keep track of mobile data usage, starting with the one I'm current using.
Read Also: 5 Best Windows Apps to Monitor Internet Usage
My Data Manager
My Data Manager is available for both Android and iOS. It's free, doesn't come with any ads, and tracks data usage for mobile, WiFi and roaming.
Input your data limit, renewal period and renewal date and you're good to go.
Now, head over to the summary tab and you'll get an overlook of your data usage for mobile, WiFi and roaming (if any).
The app tracker tab gives you a list of apps that are utilizing your data, mobile or WiFi. This gives you an idea how to adjust your usage behavior in case your mobile data is reaching its limit.
The other great thing about this app that I like is the ability to set all sorts of alarm (alerts) about my data usage.
The "Set Custom Alarm" feature lets you set alarms to inform you when your mobile data reaches a specific limit.
RadioOpt Traffic Monitor & 3G/4G Speed
This one is basically a combination of a good data usage tracker and a speed and coverage testing app. The app will help you keep your wireless connection stable and also track how much you are using data.
You can specify your data plan period and limits and RadioOpt will both track your usage and alarm you when you are about to cross the limit. You'll also not be surprised by roaming charges as it keeps a separate record of roaming data usage.
The app has a powerful speed test tool built-in that will help you test the speed of your WiFi or mobile data connection, including upload, download and ping speed.
It can also create a coverage map for you to see where you can get the best signals from the nearest network tower. Interestingly, all these tests can be directly compared with people in your area to see whether you are getting comparable speed or not.
Glasswire Data Usage Monitor
Download on Android
Glasswire, the popular network traffic monitoring app for desktops also has an app for Android devices. Like the desktop version, this app also focuses on tracking network usage and recording app behaviour.
It can track which apps are using your mobile data and WiFi and alerts you when you are about to exceed your data plan limit. You can track data usage in real-time, and even go back in time to see which app used data on a particular day.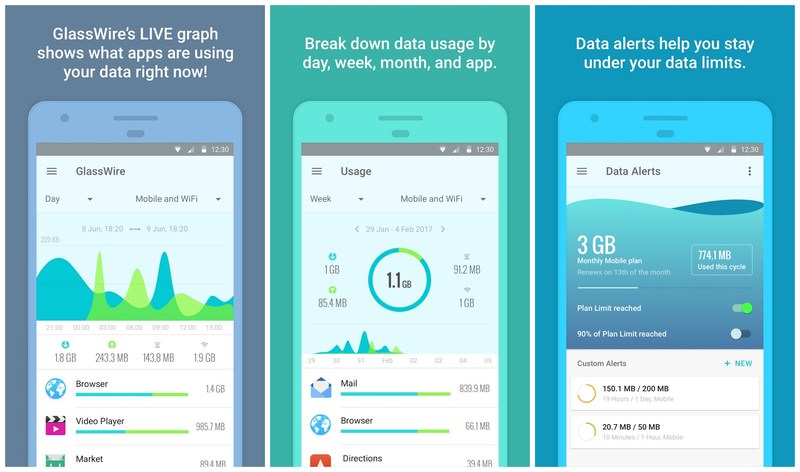 Glasswire also prompts you whenever a new app uses the internet, so you may never be surprised by an infected app. To top it off, if your data provider offers unlimited data usage for a particular app – Like Facebook – then you can also exclude it from data monitoring.
Data Usage
A reliable data usage tracking app that focuses on helping you evenly use your allotted limit over the given time. Apart from regular data tracking and alerts, Data Usage has a cool prediction feature that shows you when you'll reach the data limit based on your regular usage. If some day you use more data than usual, you'll be immediately alerted.
Furthermore, Data Usage has a dedicated widget that shows you your data usage in real-time and your overall daily usage. To take the matters a little further, the app is also capable of disabling your data connection if you reach your set limit.
DataMan Next
Download on iOS
A beautiful app with a minimalist design, DataMan only offers the features you need and does its job perfectly. Without any confusions, the app lets you monitor data usage by each app and your overall data limit progress. It also has a handy widget that keeps your data usage in view all the time.
It also has a prediction feature that tells whether you'll stay in your limit or exceed it based on your current data usage. I am sure you will really like how DataMan Next visualizes each feature with different colors and custom notifications.
Conclusion
As I've mentioned above, My Data Manager is in my own use and it's my favorite among this list, mainly because of its many features and a clean interface. However, if you think any other app strikes your interest, do give it a test run. And don't forget to let us know about your experience
The post 5 Best Apps to Monitor Mobile Data Usage appeared first on Hongkiat.
Stop Wasting Time Looking For The Ideal WordPress Theme. Check out These 15 Themes
Posted: 14 Jan 2020 04:20 AM PST
It takes time to find a theme that seems to meet your needs. It takes more time to check it out or find several more themes in order to make some comparisons; and you're still not sure! Top-tier WordPress themes tend to have the features and capabilities most web designers want, beginners and old hands alike.
Just maybe, your best approach would be to settle on a couple that appear to have what you need and choose between the two. One may have something the other doesn't but either would probably do just fine.
Any of the following top themes for 2020 will serve you quite well in terms of speed, flexibility, ease of use, key features, and quality support.
Narrow your search to these 15, find one that appeals to you most, and get started. We can practically guarantee you won't be disappointed.
It's not that there's no turning back. It's just highly unlikely you'd even think of doing so.
Happy hunting!
Responsive Multi-Purpose WordPress Theme
BeTheme, the biggest WordPress multipurpose theme of them all is a great choice for beginners and experienced web designers alike. This theme is easy for the beginner to work with and it has the features a designer who has to juggle many different clients needs to keep them satisfied.
Add the fact that if you select BeTheme you're choosing a popular product that can boast of more than 180,000 sales.
Here's a sampling of BeTheme's 40+ powerful core web design features:
The Muffin Builder — a powerful page builder that, when used with other key features listed here makes website building quick and easy and negates any need for coding.
The Admin Panel — also referred to as the Options Panel, this core feature gives users a ton of flexibility. It's a kind of "if you can think of it you can build it" tool.
500+ pre-built websites to get any project off to a crazy-fast start. These professionally-crafted customizable and responsive design aids cover 30 business sectors, all the major website types, and a wide range of business niches.
"It includes a gazillion pre-installable sites as well as the Muffin layout/page builder for free." – GwynethLlewelyn
Click on the banner to see why bigger is sometimes better.
Total was designed for those who seek perfection rather than for those who are in a hurry. Nevertheless, if you're in a rush to get a high-quality website up and running in a very short time, this WordPress theme is fast, flexible, and an absolute joy to work with.
Total is packed with useful features, but they won't be a burden or slow you down. You can in fact disable any feature you don't plan on using.
Those you definitely will want to use include:
A Dynamic Template function that enables you to customize layouts the way you want to
The WPBakery drag and drop page builder, 40+ pre-made demos and 100 page-building modules
A Theme Customizer you can use to change colors, fonts, and section or column widths to your heart's content
Total is also WooCommerce and WordPress plugin friendly.
"A fantastic theme we've used for years. It's light, fast, and comes with lots of features." – expanderdigital
Click on the banner to see if this might be exactly what you've been looking for.
Avada has been a best selling theme for a long time, and the #1 selling theme for the past 6 years running. While a popular theme isn't necessarily the one you want, here are a pair of good reasons why it may warrant a close look.
Avada's Dynamic Content System gives you loads of flexibility to design your site exactly as you want it to be.
57 prebuilt websites, 60+ design elements, WooCommerce integration, and no coding promotes a rapid design build process.
"Great theme! As my first WordPress theme, it offers many options and continues to improve!" – nwilger
Click the banner to see if Avada is right for you.
Creative Multiuse WordPress Theme
Uncode is a creative, pixel-perfect, multiuse theme. It's ideal for creative types as well as agencies and small businesses and it's 70 stunning design concepts will get your creative juices flowing.
Let's skip the remaining features for now however and direct you to Uncode's showcase of user designed websites. They, more than anything else, will demonstrate what this ThemeForest best-seller with more than 60,000 sales can do for you.
"High-quality template with a lot of features and really world-class support team." – ParaGuru
Visit the website and the user showcase.
Highly Customizable Real Estate WordPress Theme
We can't present a meaningful variety of specialty themes in such a short article. But, we can give you a perfect example of what an outstanding specialty theme looks like — in this case a theme dedicated to the real estate industry.
Houzez' cool features include:
Advanced property search
Flexible property listings formatting
A property management system
"I really love the function and the appearance of the theme." – stuffmartusa2
Click on the banner, if you represent a real estate agency.
Creative Multi-Purpose High-Performance WordPress Theme
TheGem is an exceptionally attractive WordPress theme. It also happens to represent, in the minds of many, the ultimate WordPress toolbox. The more than 40,000 sales to date that have made TheGem a ThemeForest best-seller would seem to bear this out.
Among its many features, TheGem can boast of:
More than 400 customizable design templates
Over 100 complete customizable websites
Fast and friendly 5-star support
"This multipurpose theme could make your day." – ParaGuru
High-quality template with a lot of features and really world-class support team.
Learn more by clicking on the banner.
Amazing Theme with Multi Author Publishing Features
It's one thing to build a publishing website in which you are the only author. It's something quite different to build a multiple author site, which is what Typer enables you to do. Typer is well suited for authors, bloggers, and some business types. It's super-fast, Gutenberg-optimized, requires no coding, and features the Elementor page builder.
"Theme is awesome! Exactly what I needed for my site! Support has been great too. Definitely recommend this purchase." – chriscurran
Learn more about this exceptional specialty theme by clicking on the banner.
Bridge is one of the most creative themes on the market and is in fact the best selling creative theme. With Bridge:
You have your choice of two awesome page builders, WPBakery and Elementor.
420+ Demos to get you started
A huge collection of modules, plugins, design elements, and sliders
Bridge is well suited for building all types of personal and business-oriented websites.
"I've bought some themes on ThemeForest, but this is the one that I prefer. It's incredible." – joaebobe
Click on the banner to learn more.
Multipurpose Creative WordPress Theme
Brook is an impressively designed theme. It features a wide-ranging collection of design templates and elements, site-building plugins, and tons of shortcodes.
Brook's main selling point may be the library of tutorial videos. You can access them to learn more about Brook to whatever level of detail you want to see if this WordPress theme is the right one to fit your needs.
"Everything on the highest level. This is the first time I get this kind of experience." – souldisco
Click on the banner to view the videos and learn more.
Responsive Multi-Purpose WooCommerce WordPress Theme
This specialty WordPress theme is focused on all things related to WooCommerce. It may well be your best choice if that's the web design direction you're going or if your next project is to be an online store.
The most impressive feature may be XStore's collection of not 1 or 2, but 80 good-to-go shops. There's also a Header Builder and a Single Product page builder to help you along together with a useful selection of premium plugins.
"As always, a 5 star! i bought this theme the third or fourth time so far… really loving it. the new update from 6.0 is awesome." – edvin33
Visit the site to get a head start on your next online shop.
Modern Multipurpose WooCommerce WordPress Theme
Hongo is relatively new, but as it is specially curated for creating a company website, blog, or WooCommerce store and because it is modern, multipurpose, and highly flexible it's a welcome addition to this listing of the best themes going into 2020.
Features include:
11 ready store demos with one-click import
250 design templates and product sales oriented features
200+ creative design elements
Highly rated customer support
"At the first look I was amazed with the designs, all demos and eCommerce features, but not ready to purchase as it was a new theme. But I checked about author ThemeZaa and their all products are very well built and supported. So I purchased it and now I can say my decision was absolutely correct." – kinjalbhl
Click on the banner to learn more about this modern WooCommerce-oriented creative theme.
Creative Portfolio, Blog and eCommerce WordPress Theme
The quality of your online portfolio can definitely have an effect on the success of your business. Although Pofo is a multi-purpose theme its primary focus is to give you the wherewithal to create an attractive, professional-looking, and thoroughly engaging portfolio website.
Pofo is crazy-fast and SEO optimized
Bundles premium plugins come at no charge
200+ demo pages, 25+ home pages, 150+ pre-built design elements
"I purchased this template to create my online portfolio. So far, it has been amazing! The design is very modern and looks great across all platforms. But most of all, I'm not an expert at web design and their customer support has been phenomenal." – meganyam
Learn more before starting on your next portfolio website project.
There are many ways in which a multi-purpose theme could be called perfect; and a perfect choice for you. One might be what Schema brings to the table; a theme that does much of the SEO heavy lifting for you. Schema does everything else right with respect to site-building, but SEO is often a challenge, this theme:
Provides what search engines seek
Guides search engines through your site
Checks for clean code and page load time
"Gorgeous design, super-fast response to my question too. thank you for a wonderful theme." – simonehow
See how you can more easily live with SEO design.
WordPress Landing Page Theme
Leadinjection is another specialized theme. It successfully tackles an issue that can sometimes present a web designer with a seemingly intractable problem — that of inserting a new page into an operational website.
Leadinjection is conversion focused and features a drag and drop builder. It's multi-WordPress site compatible, and no coding is required.
"Easy to customize and support is great." – fmueller01
Click on the banner if you're managing multiple sites.
Responsive Multi-Purpose WordPress Theme
The secret to building TheFox, the smartest WordPress theme on the market, was not about being clever. It was all about designing the theme down to the very minutest of detail leaving nothing to chance.
The result was a super-smart multipurpose theme that has all the essential features, ranging from premium plugins to the WPBakery page builder, WooCommerce readiness, and a strong selection of design details.
"I have been very impressed with TheFox theme. The design and customizability are great and very straight forward. The Customer support is top notch." – bc_hughes
Be smart like a fox and click on the banner.
Summary
WordPress is by far the most popular platform to work from. You can use it for creating engaging, professional-looking high-performance websites.
Anytime you select one of the top-of-the-line WordPress themes, whether it is multi-purpose, somewhat specialized, or highly specialized, there's a good chance that your choice will end up making your day.
Please feel free to share this article with a fellow web designer and ask him or her to post it on social media – or do it yourself.
The post Stop Wasting Time Looking For The Ideal WordPress Theme. Check out These 15 Themes appeared first on Hongkiat.
You are subscribed to email updates from Hongkiat.
To stop receiving these emails, you may unsubscribe now.
Email delivery powered by Google
Google, 1600 Amphitheatre Parkway, Mountain View, CA 94043, United States