---
5 Best Free Android Apps to Remote Control Your PC
Posted: 21 Mar 2019 08:34 AM PDT
Do you wish to access your PC remotely or remote access your Mac from another device? Remote control apps help remotely access and securely control your desktop, a mobile or a server. Such apps come handy on various situations where you can't access your system in personal.
The process is extremely simple: just setup RDP or VNC on your system, and install and configure compatible apps on your computer and the Android device. Then you can securely connect to the configured system from anywhere in the world, say from the comfort of your sofa or from the deserts of India.
In this post, we'll take a look at the five of the best Android apps, which help to remotely access and control your computer from almost anywhere with an Internet connection.
If you're looking for an all-in-one remote control solution, then TeamViewer is the product you're looking for. It provides amazingly fast and secure access to computers and mobile devices. The tool helps you or your team to access any system remotely, provide online support to customers and administer unattended computers or servers across different platforms.
TeamViewer is no doubt the easiest and most feature-ful tool for remote control as compared to the other solutions in this list. It also offers support for more number of devices than any other solution, making it the best choice if you're looking for a multi-platform solution.
Pros:
TeamViewer comes with numerous attractive features such as:
Connect to all major desktop and mobile platforms including Windows, macOS, Linux, Chrome OS, Android, iOS, Windows Phone and BlackBerry OS.
Supports screen sharing as well as complete control of remote devices.
Single window console to manage contacts, devices, sessions and more.
Offers chat and VoIP features for making calls, conferences and meetings.
Record the remote sessions including screen, audio & video and VoIP.
Shared clipboard allows copying and pasting text, images and files easily.
Transfer files with speed up to 200 MB/s across any two remote devices.
Supports controlled access via trusted devices as well as white and blacklists.
Secures the remote connection with powerful 256-bit AES to encrypt sessions and 2048-bit RSA for key exchange along with optional two-factor authentication.
Free for personal use but doesn't include various advanced features.
Offers online help videos and support documents including how-to tutorials.
Cons:
TeamViewer does lack at some places, for example:
Doesn't connect to systems running open-source VNC or third-party VNC software like TightVNC, UltraVNC, etc.
It's a proprietary software that comes for premium price for business users.
VNC Viewer is a remote control app from RealVNC (innovators of VNC itself) that gives you instant remote access of your computers or servers from anywhere using your mobile. VNC Viewer establishes secure, seamless and reliable cloud connections to VNC or VNC Connect compatible computers without the need of any network configuration.
If you're searching for a free and open source solution, then VNC Viewer is your only option in this list. Though the app is itself not open sourced, but contrary to other tools, it can connect to computers running open-source VNC. However, you may find some features missing while using open-source option.
Pros:
VNC Viewer offers various awesome features as listed below:
Connects to all popular desktop operating systems such as Windows, Mac, Linux and also to Raspberry Pi.
Connects to computers using open-source VNC or third-party VNC-compatible software like TightVNC, Apple Screen Sharing, etc.
Provides backup and sync connection details using the RealVNC's cloud account.
Supports Bluetooth keyboards and mices for easy control on mobile devices.
Offers multiple authentication schemes to prevent unauthorized access.
Encrypt whole connections to prevent eavesdropping by malicious entities.
Blacklists the users failing authentication to prevent attacks and port scan.
Avails online documentation as well as support through chat and email.
Offers cloud-only, free subscription of VNC Connect for home users.
Cons:
VNC Viewer lacks at various points in comparison to others like:
Can't connect to mobile platforms.
Costs premium price for its VNC Connect to business users .
Doesn't support file transfer feature to/from free home subscription and using Android, iOS and Chrome-powered devices.
Microsoft Remote Desktop is the best go-to tool to get work done on a Windows system remotely using an Android mobile device. It doesn't need any software installation on the remote system until that runs Windows and you know how to configure Remote Desktop. If not, then you only need to install Remote Desktop Assistant and it does all for you.
Microsoft Remote Desktop is the right choice for you if you're looking for a Windows-only solution. Though the tool doesn't work for any other platform yet it works like a charm to remote control a Windows PC. It's packed with basic features like shared clipboard but lacks advanced features offered by others such as file transfer, chat and voice call, etc.
Pros:
Below are the some of the best features of the Remote Desktop client by Microsoft:
Connect to Windows OS for desktops and servers only.
Rich multi-touch experience supporting Windows gestures using RemoteFX.
Access to remote resources like printers using Remote Desktop Gateway (the same need to be configured on your network).
Access to local storage of Android from the remote Windows applications.
Secure connection to the remote computer using Network Layer Authentication.
High quality audio and video support using advanced bandwidth compression.
Comes for free for everyone though some features are only for enterprise users.
Cons:
Microsoft Remote Desktop lags behind at some frontiers such as:
Can't connect to other opertating systems than Windows.
Proprietary technology that can't connect to Windows 10 Home.
Chrome Remote Desktop is a unique browser extension for Google Chrome to access a PC Mac or Linux desktop easily and securely from any Android device. This makes possible any Chrome user to give remote assistance or access a remote computer over the Internet using just Google Chrome browser on numerous operating systems.
If you love everything Google and require a sweet and simple remote control solution, then Chrome Remote Desktop is just for you. It's the only multi-platform tool that's freely-available for commercial use unlike all other solutions in this list, hence if you're planning to set up remote control in your organization, then Chrome Remote Desktop can serve the purpose.
Pros:
Some of the most interesting attributes of Chrome Remote Desktop are:
Connect to Windows, macOS and Linux desktops.
One-time authentication code to share with or get access.
Able to set up screen sharing as well as remote assistance.
Manage saved session or connection details at a single place.
Streams audio and supports functional copy-paste for Windows.
Encrypted sessions using Chrome's SSL features including AES.
Free to install and use for personal as well as commercial work.
Cons:
Few of the pain points of Chrome Remote Desktop are:
Can't access local storage or resources in remote apps.
Doesn't support file transfer for every platform.
Last but not the least, we have Splashtop. It's a secure remote control app that gives full access to applications, multimedia files, games and more on the remote computer. It's easy to setup a remote control connection using its Splashtop Streamer on the remote computer.
If you're looking for a local network solution, then Splashtop is the best tool for you. Though its online remote control works only for premium subscription yet its features make it worthy to try on local connections. You can access and stream music and media stored on your computer from mobile devices.
Pros:
The distinct factors of Splashtop are:
Connects to Windows and MacOS platforms only.
Connects from various devices including Kindle Fire and Windows Phone.
High definition audio and video streaming on the remote connections.
Strong encryption including logging, audit trails and multi-level passwords.
Business features include file transfer, remote print, chat and multi-user access.
Free for use on the local network to access your computer from another room.
Cons:
SplashTop does come with some weak points too, such as:
No free option to access your home computer from anywhere using Internet.
Can't connect to Linux systems.
Rounding up
TeamViewer is highly recommended for personal use as it's easy to use and allows screen sharing, remote control and more. Chrome Remote Desktop works without any software installation and thus, beneficial for setting up remote assistance or control on machines without admin or root privileges. Lastly, Windows Remote Desktop is for anyone using Windows with basic remote control requirements.
For better understanding of the readers, bellow is a table of all the aforementioend apps along with the features they do or do not have.
| | | | | | |
| --- | --- | --- | --- | --- | --- |
| | Connect to | Chat and VoIP | Transfer files | Encrypts session | Free for |
| TeamViewer | Windows, macOS, Linux, Chrome OS | Yes | Yes | Yes | Personal use |
| VNC Viewer | Windows, macOS, Linux, Raspberry Pi | No | No | Yes | Personal use |
| Microsoft Remote Desktop | Windows | No | Yes | Yes | Personal & commercial use |
| Chrome Remote Desktop | Windows, macOS, Linux | No | No | Yes | Personal & commercial use |
| Splashtop 2 | Windows, macOS | No | No | Yes | Personal use |
Do you use any of these remote control apps? What's your any-time experience of using a remote control application? We'd like to hear from you.
The post 5 Best Free Android Apps to Remote Control Your PC appeared first on Hongkiat.
30+ Gift Ideas for the Photographers (2019)
Posted: 21 Mar 2019 07:10 AM PDT
If you are seeking a gift for a professional photographer, you are in the right place. After discussing with photographers, I compiled this post of useful products for any professional photographer.
This post packs in a multitude of products that are used daily by a photographer. The list includes memory cards to flash kits and camera straps to backpacks, and I believe you will find your dream gift among them. Let us get started.
When you require to do the macro shooting, you need a macro lens. However, they are mostly expensive, but fortunately, you can use extension tubes to focus closer on using your camera's lens. You can use extension tubes individually or combined to gain the detail or focus you require, and these are usually cheaper.
If you have a DSLR, you shoot images of high file sizes. In such a case, you require high storage memory cards to avoid switching the cards in your camera while performing a shoot. And, a super-fast memory card with 64GB or more storage can be a photographer's best friend in such a situation.
When you shooting in low-light conditions, especially inside or during the night, you need illumination for taking crisp photos. And there can be almost no better solution than a flash kit with configurable angle and illumination.
When a flash kit is not enough and you need more illumination for taking your best shot, then you need an on-camera light system. Among them, ones powered by LEDs are most powerful. Also, some of them (like the one listed below) helps to join multiple systems to create more lightning per your needs.
When you are recording videos — may be making a wedding video or shooting a video song — you need perfect audio for the video. And, if the mic present in your camera does not serve your purpose, you need an external microphone. It connects to the 3.5mm jack and reduces any unwanted noise.
Whether your budget is high or low, every photographer needs a tripod stand. It is impossible to avoid a situation where you need to stabilize your camera for taking a shot. In such situations, a tripod works perfectly for a camera. I find it also helps offload the camera from your body while taking still shots.
In case one has multiple cameras and various accessories along with them, one needs to carry multiple batteries and cords for them. Moreover, since modern cameras eat up lots of juice, so cameras and batteries usually require frequent charging, which can be difficult if you are on the road. Don't you think?
In a difficult situation like this, a universal charger seems the obvious solution. Also, if the charger is also a power bank, it solves more problems. It can charge multiple types of batteries, has its own juice, and connects to the car too.
When you are a professional photographer with an advanced camera, you shot images of large file sizes, which may go up to 50 MB. With this file size, it will take just 1500+ images to fill a 64GB memory card. Then the need arises for a bigger storage, and a portable hard disk is a perfect choice in this situation.
Although a portable hard disk sounds useful, what if you are traveling? If you use a bigger storage, but you frequently travel, then you need a rugged portable hard disk. It stands well against drops, moisture, and other accidents; and it can even be password-protected, which proves useful if ones go missing.
When you need to carry your camera along with you for long distance, it is best to avoid holding it in hand or around your neck. It avoids running into an accident and damaging your camera, and also avoids you of any pain. You can attach it to your waist belt or backpack using a camera holster.
If one is busy doing a long shoot, it becomes painful for him since the official neck straps are not comfortable enough — especially with bigger cameras. In such a situation, it is best to get the camera off the neck. A replacement camera strap put the camera's load on to the shoulders, relieving the neck.
When someone gets a strain in the neck, it can affect the shoulders as well sooner or later. At that time, it is advisable to remove the load off the neck as well as the shoulders. In such a case, a strap belt around the waist is the best solution to lifting one or two cameras for any short or long shoot.
If you usually find yourself moving around with your camera in your neck, it is best to have a camera bag for your photography stuff. I like the shoulder bag since it feels more stylish than the backpack. However, it is smaller than the other. Nevertheless, it can easily hold a camera, a few lenses, and more.
When a shoulder bag does not fit all your cameras and their accessories, you need a camera backpack, which gets you space for all your stuff. You can easily pack a camera, multiple flashes or lenses, etc. Moreover, it can also hold a tablet or a laptop as well and provides you with a flipside access too.
A camera bag is a perfect solution for keeping the camera and its accessories. However, it is not comfortable to take multiple shots using a tripod when one needs to move the bag and the tripod multiple times. In such a case, a tripod bag gets handy; you can keep items in it and move just the tripod then.
A photographer needs multiple accessories along with his camera for a perfect shot. However, the more stuff he keeps with him, the messier it becomes. That is where a traveler bag comes to the rescue. Moreover, if the traveler bag is modular, it allows keeping the products in their organized pockets.
Nowadays, any professional camera comes with a connectivity cable, which one can use to connect it to a computer and import the photos. However, it is uneasy when one can multiple memory cards: one needs to switch them one by one inside the camera. Then, it is best to use a multi-card reader.
A professional photographer carries lots of memory cards, which is especially true when one has multiple cameras or need to do multiple shoots. It becomes quite messy in such a situation, so a memory card case proves handy. Pelican's case can store 12 SD cards, 6 mini SD cards, and 6 micro SD cards.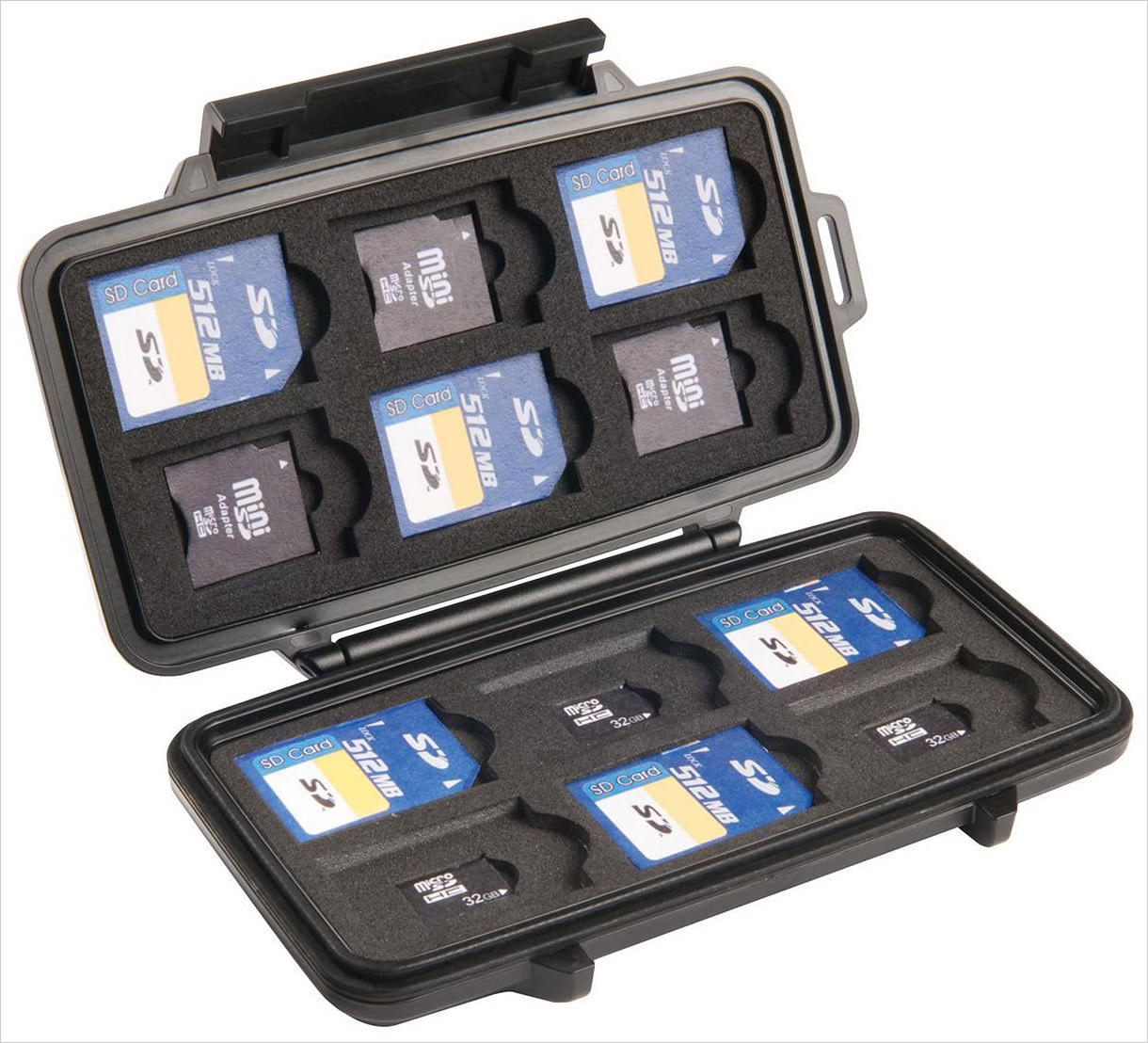 A camera's lens and optics must be clean for the superb quality of images and also for the longevity of the equipment. That said, one should not clear the lens using a cloth or paper towel. On the contrary, one must use a professional wipe for the purpose, and the wipes from ZEISS are one of the best.
We all know that electronic equipment need proper care, which does include cleaning them periodically. Although one can clean the lens using cleaning wipes yet one cannot clean the whole camera using the wipes. That is why one needs an air-blower cleaning system — it helps clean easily and safely.
More:
We have the bracelets for causes, friendship and love, so it was only a matter of time before lens bracelets came into the action. The ideal gift for photographers who are into each other as much as they are into taking photographs, the lens bracelet is also the perfect accessory that goes fashionably well with the rest of the gadgets.
Whether you're a RAW photographer or a JPEG photographer, once you've tired a WhiBalTM G7 Pocket card, you can never go black – I mean, back. A great reference card for colour neutrality, this light gray card 'tells' your camera what white should really look like – that is when it is absent of any other colour. With a WhiBal, you don't have to deal with mal-adjusted colour tinges in your photographs no more.
Related: White Balance cap
Remember how your dad/mom/teacher looked when you gave them their "The world's greatest _____________" mug? Well this is to make up for the lack of a "World's Greatest Photographer" mug. P.S. I prefer this alternative too.
Related: Nikon Camera Lens Mugs
This Bokeh kit can turn out to be a great source of fun – or frustration – to the receiver. While the verdict is still out on what makes for a good Bokeh, thank, or prank, your friend with this 21-cut-outs kit for the Bokeh enthusiast.
Looking like a cross between a three-legged squid and that molecule model in your seventh grade science class, the gorilla pod is actually a great addition to the outdoor photographer's bag of tricks. Let it cling, grab or grapple onto anything you can wrap its bendy legs around and one can break barriers by producing mind-boggling angle shots. Trust me, everyone will love this!
Related: Monopods
Can't upload your latest snaps to the Net fast enough? Upload them via your iPad with this camera connector. This should hold the fort until they make Wi-Fi enabled cameras. What am I talking about? They have!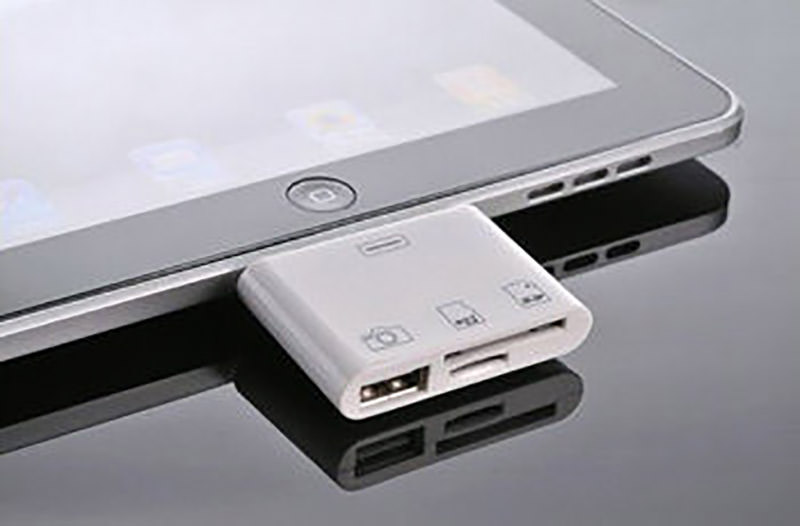 It's waterproof, it's affordable and it works underwater! What's not to like?
So you've gotten her her fifteenth photography book for her birthday. I'm sure she'll appreciate these bookends well decorated with vintage cameras on both ends as a great book-stopping addition to her growing book collection.
With all those gadgets, gears, tools and kits to lug around, one can definitely appreciate a handy backpack that has all the right-sized compartments at all the right areas. It also has a designated space for a 15.4" notebook, perfect for one who shoots on the move.
If the underwater digi-cam is not enough for a photographer who just would not let you pry his SLR from his fingers, you can always get him a camera case that would keep his equipment dry, even if he has to get himself wet in the process. Aahh, the lengths photographers would go through just to get that perfect shot.
The title says it all: it's a camera that gives you panoramas by spinning 360 degrees while taking seamless surround-view photographs. It's the perfect gift for someone who likes experimenting with new photo-taking techniques – especially one that gets the photographer in the picture as well!
That was all about the gift ideas for a photographer. I hope you were able to pick one of these for gifting to your friend or family member. What did you pick? Just write a comment below or tweet me to @aksinghnet to tell your story.
The post 30+ Gift Ideas for the Photographers (2019) appeared first on Hongkiat.
50 Absolutely Stunning 3D Street Art / Paintings, Vol. 3
Posted: 21 Mar 2019 05:13 AM PDT
Have you ever came across a drawing or chalking on a street or pavement that seems strangely odd at first, but when you look at it from a certain viewing point or angle, it looks like a real-life object or structure. Well, that is the magic of 3D street art, one of the most famous public art forms.
Though 3D art has been around from quite a while but with the advent of the internet, it's popularity has catapulted. Notable brands are already taking advantage of the public's curiosity on 3D street paintings to create awareness for their products.
So, today's post is a sequel to a series of stunning 3D street art paintings and features some of the best and even award-winning examples of this wonderful art form. Go ahead, feast your eyes!
Hot river
Nearly the whole street were taken to create this earth cracking effect. Brilliant piece of art!
Source: Edgar Mueller
Ice abyss
Watch out to not fall in this huge ice abyss!
Source: Edgar Mueller
Raft
Now that the street is flooded, raft is your only resort to get to the other side.
Source: Edgar Mueller
Johnnie Walker in Taipei
Underworld of Johnnie Walker.
Source: Manfred Stader
Mysterious cave
You don't have to travel around around the world exploring mysterious caves – somtimes they are just under you.
Source: Edgar Mueller
Reflection
People on the upper part of the image is real but their reflection on the bottom part of the image is drawn.
Source: Kurt Wenner
Melstorm
And here comes the vortex!
Source: Kurt Wenner
Muses
This drawing looks like an old, classic painting, similar to paintings in medieval castles.
Source: Kurt Wenner
Hole
Another drawing which shows what happens under the street.
Source: Kurt Wenner
Relaxing giant
A huge giant relaxing on the street.
Source: Kurt Wenner
Horses
It's a cowboy show, yee-haw!
Source: Kurt Wenner
Office stress
This drawing represents daily life of a typical office, maybe?
Source: Kurt Wenner
Just hold on and here we go… Oh snap, I didn't see that crock down the river!
Source: Julian Beever
Escalator from the underground. This looks very realistic!
Source: Manfred Stader
Ice cold 3D chalk drawing for Grant's.
Source: Manfred Stader
This is very big, shiny drawing which is made for "Smart".
Source: Manfred Stader
Nails
Ouch, this hurts!
Source: Manfred Stader
What's this? It's a colour waterfall!
Source: Manfred Stader
So it's possible to kick back at a beach, in the middle of a city.
Source: Manfred Stader
And here we have a hot bath which is open for everyone!
Source: Manfred Stader
A really realistic cup of cappuccino.
Source: Manfred Stader
Source: Manfred Stader
Source: Manfred Stader
Beautiful underworld by Orange.
Source: Manfred Stader
Source: Manfred Stader
Be careful where you park your car.
Source: Manfred Stader
3D chalk drawing can also be on the wall.
Source: Manfred Stader
Source: Manfred Stader
Where fantasy meets reality.
Source: Manfred Stader
Source: Manfred Stader
Watch out for the crashing in car, or should it be crashing
up
Source: Manfred Stader
World's biggest fly meets world smallest fly-spray.
Source: Julian Beever
Source: Julian Beever
Source: Julian Beever
Artificial Eiffel Tower built using sand.
Source: Julian Beever
He has drawn himself!
Source: Julian Beever
Found a treasure in the center of the city!
Source: Julian Beever
That's right, the help is on its way.
Source: Julian Beever
Source: Julian Beever
Ready, get set, jump!
Source: Julian Beever
Source: Julian Beever
Heaven
It seems like we have a heaven beneath us too.
Source: Tracy Lee Stum
Train
Here comes the underground train!
Source: Tracy Lee Stum
Water In The Way
How should I cross this? Tough question.
Source: Tracy Lee Stum
Escape of the mummy
Mummy is climbing out of underground!
Source: Tracy Lee Stum
Temple of the jaguar
Source: Tracy Lee Stum
The Medici Garden
Source: Tracy Lee Stum
Drawn Basketball Optical Illusion
Someone should take that ball of the street, or maybe not.
Source: Greg Lehman
Lizards
Animals from the underground
Source: Gregor Wosik
Jack Daniels
Source: Gregor Wosik
The post 50 Absolutely Stunning 3D Street Art / Paintings, Vol. 3 appeared first on Hongkiat.
You are subscribed to email updates from Hongkiat.
To stop receiving these emails, you may unsubscribe now.
Email delivery powered by Google
Google, 1600 Amphitheatre Parkway, Mountain View, CA 94043, United States